I know that a lot of my family and friends use Instagram and from time to time they would make a #tbt post. #tbt posts usually reference back to a past event (where tbt refers to "Throwback Thursday"). For example, someone will post a childhood picture or a vacation from 5-10 years ago. Since my Adventure Blog here on lecahierdekev discusses more lighthearted topics and allows me to share pictures with others, everyone usually comes here for that purpose (which in a sense serves as my "Instagram" haha).
After looking at pictures of past events posted by family and friends, I was inspired to make a #tbt post. What captured my attention were my pictures from my Vegas vacation/holiday back in 2004 (more than a decade ago!). I took the pictures using my old digital camera and unfortunately couldn't take as many photos because of the limited memory. It was a small 2 megapixel digital camera with a capacity for less than 100 shots so I wanted to make sure it would last for the entire week! Back then the cameras on the phones were not as advanced as the ones found in popular touch screen phones today. When I took a look at the pictures, I really liked how vibrant and colorful the environments were in Las Vegas. It's no surprise though since Vegas is known for its casinos, lights, shows, and other entertainment. I named this entry "Vegas Vacation" because it had a nicer ring than "Vegas Holiday" haha
Please note that some pictures may not be of the best quality (i.e. be blurry). To be able to take the maximum number of pictures from my camera, I had to set it to a maximum of 640 x 480 with 72 dpi. Surprisingly though many of the pictures turned out pretty well. Now when I go on vacation/holiday, I have my digital camera along with my phone to capture more pictures.
Going on vacation/holiday is always fun and enjoyable especially when you get to create new memories and experience things that are different from your usual daily repertoire. As I glanced at the pictures, I remembered how much in awe I was at the sights. It was my first time in Vegas so it was quite a lot to take in. In addition to Las Vegas, I also have pictures of the Grand Canyon and the Hoover Dam as part of a tour during the trip. At that time, I was living in another city, so we took a family trip together to catch up during the summer. My mother and I was in communication regarding the itinerary and planned what we were all going to do together.
On the day of our flight, my mom's cousin helped us load the luggage into the van and drove us to the airport. When we arrived at the airport, we went through the process of security and getting our bags checked. After boarding our plane, the pilot informed everyone that the flight was full. It was summer time so it was no surprise that everyone was ready to relax and take time off. It was a direct flight so it only took a few hours to get from the East Coast to Las Vegas.
The hotel that we stayed at was Circus Circus. Prior to the vacation, my mom and I were looking at the most affordable hotel which also had a good location near the Vegas Strip. The two choices that we narrowed it down to was the Stratosphere or Circus Circus. Since Circus Circus had a good selection of entertainment and attractions, we decided to choose that one.
Outside our hotel/casino Circus Circus
When we arrived at the airport, we took a shuttle with other passengers to get to our respective hotels. The driver asked each person/group where they were heading and wrote it down on her clipboard. It wasn't too crowded since we arrived in Las Vegas later in the evening at around 11 PM. We went to the front desk and my parents presented the printed reservation forms to get our room key. The bellhop loaded our luggage on a cart and led us to our rooms.
As we got to our room, we gave the tip to the bellhop and settled in. We had brochures/pamphlets that discussed the events at Circus Circus and what were the other "happenings" around Vegas during that time. The 2001 movie "Rat Race" was playing on the TV and we were laughing at the absurdity of some of the scenes. As we watched the movie, we were looking for places to get some food. I was excited to finally experience a Vegas buffet during this trip! The last casino buffet that I tried was in Atlantic City a few years before this trip (I think it was either at the Borgata or Tropicana). My uncle and aunt who frequented the casinos here treated our group (my family and my other uncle and aunt) to the buffet. My aunt wore her signature jade jewelry and wore green since she said it was lucky. haha
Throughout our trip, we ate at a lot of places. We had a large pizza from "Pizzeria" at Circus Circus, bought hot dogs that had everything on them (relish, sauerkraut, and other toppings), ordered Chinese food, and ate at the buffet at Circus Circus to name a few. At the buffet I remembered getting several plates of food with items such as mashed potatoes, calamari, pasta, and chicken. I still had room for a key lime cheesecake. I don't think I'd be able to eat that much now!
Trapeze performers inside Circus Circus
Acrobatic performers inside Circus Circus
It wouldn't be Las Vegas without a mention of the casino:
Overlooking the casino inside Circus Circus
After spending our time at Circus Circus, we decided to venture out to explore the other casinos. At that time, it was scorching outside. The temperature was 107 degrees F (42 degrees C) so just standing outside made us sweat! haha You could feel the heat hit you when you leave the air conditioned casino.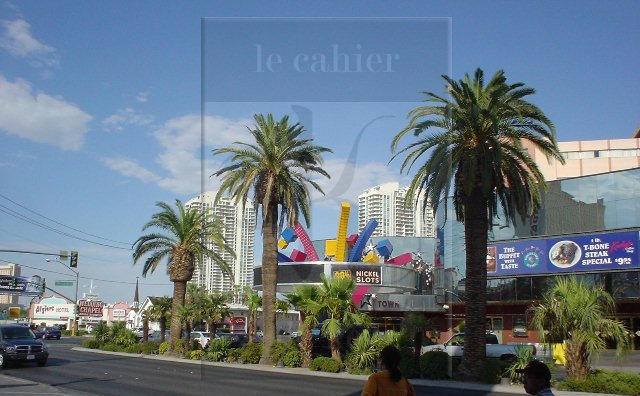 The summer heat and palm trees
My parents went to the casino to play some of the games, and I stayed with my brother and went to the Adventuredome indoor amusement park and the Midway arcade/entertainment area at Circus Circus. We bought the All Day Ride Pass which kept us entertained for hours. They gave us bracelets so that we could go to each ride as much as we wanted. After we rode the rides several times, we headed to Midway to play some games.
Me playing a racing game at the arcade
(I cropped myself out because I looked ehh from walking and sweating haha)
Ticketing sign at Adventuredome
Line forming to enter Adventuredome
At Mandalay Bay, we took an audio tour at the Shark Reef Aquarium. As we entered, we paid for admission which included a wand that provided information on the exhibit we were looking at. The aquarium was quite extensive and very beautiful.
Entering the aquarium at Mandalay Bay
Diverse fish at the aquarium
Hammerhead shark swimming
After Mandalay Bay, we walked to Luxor, the Egyptian themed hotel and casino.
Outside Luxor
Quite magnificent!
Here is a pic of me sitting outside the Stardust casino. Stardust was closed and demolished in 2006 and 2007 respectively. When we went inside Stardust, I could still remember all of the cigarette smoke as we walked through the casino area.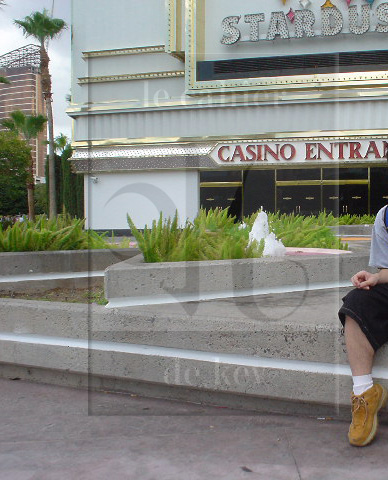 Me sitting in front of Stardust
(Again, I cropped myself out because I was sweaty haha)
We passed by Excalibur, the Medieval themed casino.
We then went to New York New York. At New York New York, my brother and I rode the roller coaster. It was crazy and fun. At that time, I think it was 10 or 11 dollars for an individual ticket. It should cost more now. (I just checked, it's $14 for an individual ticket...it's not too bad. If it went up to $20 then that would have been crazy!)
Outside New York New York
After a bit, we stumbled onto MGM Grand. The outside was quite a sight to behold with its dazzling lights.
Overlooking MGM Grand and the street below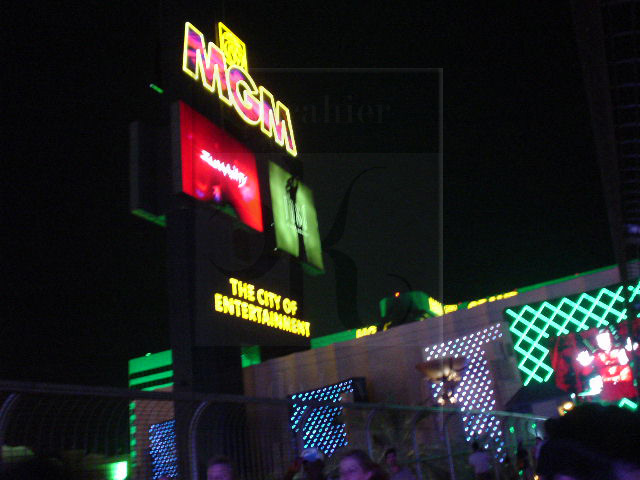 When we walked inside, we passed by the Rainforest Cafe. Here is the alligator decoration outside the restaurant:
The alligator decoration outside
The next day we passed by Fashion Show Mall. Who doesn't love a good mall? haha There were a variety of shops inside.
Fashion Show Mall exterior
Fashion Show Mall interior
We walked around, but didn't purchase anything. It was just nice to look around the stores. After visiting the mall, we passed by Treasure Island.
The ships outside Treasure Island
Another view of the ships at Treasure Island
From there, we continued our walk overlooking the Strip.
Standing on the walkway bridge above to cross to the other side of the street
This led us to the beautiful Venetian, a luxury casino/hotel resort with an Italian influence.
Gondola ride outside the Venetian's waters
We then passed by the erupting volcano exhibit outside of the Mirage.
The volcano exhibit outside Mirage
(we missed it on this day, but caught it on a later date)
From there we visited the Forum Shops at Caesars Palace.
Laser light show at Caesar's Palacer
We were lucky to catch it!
Statues at Caesar's Palace
(I almost wrote "statutes" from rewriting the medical law notes haha)
Here is a picture of the Eiffel Tower replica in Las Vegas.
Eiffel Tower replica exhibit
Here is the Tower lit up at night: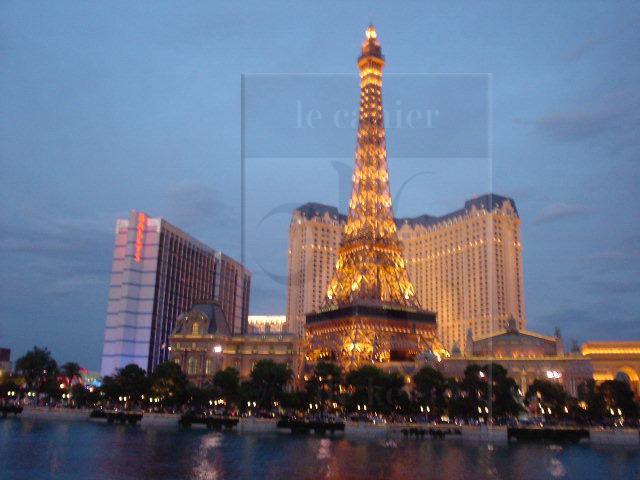 Eiffel Tower exhibit at night
From there we headed to the Bellagio, one of my favorite casinos in Las Vegas. The exhibits inside were iconic and nothing could beat the fountain show outside.
Flowers and exhibit inside Bellagio
Liberty Bell exhibit inside Bellagio
Fountain show at the Bellagio
Fountain show at the Bellagio
(It was so enchanting!)
A calm night outside of the Bellagio
My mom also suggested that we go on a Grand Canyon day trip tour on one of the days. She spoke to the front desk and asked whether there were any tours available. They recommended a tour in which a shuttle would pick everyone up from different casinos at specified times (our pick up time was 8:10 AM at Circus Circus) and take us to the tour bus boarding area. The individual calls the tour in advance to let them know which day and how many people would be attending the tour. Payment was made to the shuttle driver who then gave you the tickets and let you in (otherwise, the shuttle driver wouldn't drive you to the boarding area).
At the boarding area, the driver gave us the itinerary and what to expect from the trip. On the way to the Grand Canyon we would go through Hoover Dam, a gift shop, and a security check before entering the Grand Canyon. The trip from Las Vegas to the Grand Canyon took us around 5 and a half hours including the stopovers at the gift shop and Hoover Dam.
A view outside on the way to the Grand Canyon
Hoover Dam was surprisingly nice. I didn't expect that we were going to make a stop there, but it was a nice 15-20 minute break. The driver told us that it would be good since we could get some fresh air, stretch, and walk around.
Our stop at Hoover Dam
When we arrived at the Grand Canyon, we had our tour. The bus driver gave us a few facts and other stories regarding the Grand Canyon. We then had an opportunity to walk around, explore, and take pictures.
Overlooking the Grand Canyon
After we were able to explore, we had lunch. Lunch was included in the ticket fee. Each person received a bag which included a turkey sandwich, a bag of chips, and a bottle of water. I forgot what the vegetarian option was. As we ate our lunch, I talked to my brother about our trip and told him about upcoming plans for the Fall. He told me about his upcoming summer plans after our trip.
It was around 11:30 PM when we arrived back at our hotel. At that time, we only had two more days left for our trip so my parents decided that we should buy souvenirs and look at a few remaining sights for the remainder of the trip.
Although we didn't get to see the volcano show on the day we passed by it, we were lucky to see it this time!
The volcano show starting to erupt
As we walked around to find a place to buy souvenirs, we stumbled upon the Freemont Street Experience. The ceiling has an entertaining light show so we were lucky to catch it.
Guess we know who sponsored it haha
On our final night, we packed up and got everything ready. It was such a great experience and was the highlight of that summer. I hope you all enjoyed this entry. It took some time to write. I did find some notes about the trip on one of my old diaries, but they were words jotted down that didn't go into too much detail. haha However, I do hope you enjoyed the pictures. I absolutely love to travel and see new sights because I can always learn something new along the way.
As my site becomes 4 years old this October, I just want to say thank you to everyone (family, friends, and both new and regular visitors) for enjoying my adventure ramblings. :) Let us all be good to one another and show each other love, support, and respect as we move toward a stronger future.