I hope you all had a wonderful Thanksgiving! I'm sure everyone is getting some much needed rest this weekend after their meals.
When I was on the train before Thanksgiving holiday, an elderly woman sat next to me. We had a nice conversation and she was telling me that she was going to go to a church in New Jersey to drop off some clothes. She told me that she was 71 years old and that she worked for the IRS for 9 years before retiring. I told her that she did not look 71 years old at all and we both laughed. We wished each other a Happy Thanksgiving as well as to our loved ones and parted ways.
Family came together at my parents' house. In my family we usually alternate cooking for each year. For example, one year my aunt made a roast chicken and a chocolate cake, my mom made noodles, my dad took care of the turkey, and I handled the ham. This year it was going to be my dad and me who was in charge of the menu since everyone told us, "Whatever you guys make is fine with us."
Before Thanksgiving, my family asked me what I was planning to make since my dad told me that he was going to roast the turkey. I remembered that I had two VHS tapes of Barefoot Contessa (Ina Garten) that I recorded in 2010. In one of the episodes, she made Company Pot Roast for her friend and her family. I remembered planning on actually making it a while back, but I never got a chance to. I decided, "Okay, I'll make pot roast with vegetables to make something new." I took a look at the ingredients and it didn't seem too bad in terms of complexity. Last thing I wanted was to end up becoming frazzled making a dish! I also planned to make pancit molo (which was the chicken wonton soup from one of my previous entries... it's usually made with pork though, but my mom does not eat meat except chicken and fish) and pound cake cupcakes. There are so many cultural influences around New York City from Filipinos to Italians to Cubans that I get to taste so many different cuisines from my friends.
I watched Ina's episode a few days before Thanksgiving to refresh my mind and organize what ingredients I needed. Surprisingly, it wasn't too complicated. It just had a lot of steps such as searing the meat, cooking the vegetables, making the sauce, baking in the oven, thickening the stew, and putting everything together.
I needed red wine for the pot roast. Luckily, the Trader Joe's Wine Shop at Union Square has an amazing deal on affordable wines. Two bottles only came out to $12 which was amazing since that's one cocktail at a restaurant or bar in New York!
I already knew that it was going to be crazy on Thanksgiving so I actually prepped everything the night before. I mixed the ingredients for the dumplings, baked the cupcakes, and cut all of the vegetables that I was going to use for the pot roast and soup. That way, I can just put everything together and focus on my two main dishes.
Clockwise from top left:
Prepping the vegetables the night before, the pancit molo (wonton soup),
the pot roast before putting it in the oven
Before I continue, I just want to say that the collage apps are so helpful! My best friend, nieces, and other family members use collage apps to organize pictures together. I actually relented and downloaded an amazing app on the iOS App Store called InstaCollage. It's like a mini Photoshop so I played around with it and enjoyed the customization features that it had. You can add stickers, choose a frame, pick from a wide selection of collage styles (I think it's around 100+ collages), remove red eye, use filters, etc. It has made things so much easier especially when I have to send pictures to family.
I finished making the pot roast in my parents' oven since my dad told me that his turkey was also cooking at 325 degrees F (163 degrees C) and the pot roast needed to cook at the same temperature. I did not have a Dutch Oven so I cooked the first part on the stove and then transferred everything to a ceramic baking dish when I needed to bake it. Similar to Ina, I tied the rosemary and thyme herbs together with string to make a bouquet so that it would be easy to take out after it baked in the oven.
For the wonton soup, all of the vegetables and chicken stock were prepared beforehand. I just brought the wrapping materials to make the wontons and then cook it in the soup. My mom helped me fold the wontons :) She was awesome! She laughed and told me that she forgot how I folded it so I refreshed her memory. Ten seconds later, she was folding them like a rockstar. She's so wonderful.
While she folded the wontons and watched the Thanksgiving Day parade, I prepared the soup portion. I sauteed the onions, garlic, and shredded chicken. I added the chicken stock, the chicken bullion, the spring onions, and thyme and let them simmer. My mom finished the wontons so I thanked her and set it aside until cooking time.
The turkey was roasting in the oven along with the pot roast so it was just a matter of letting it cook. We could all smell the wonderful aroma of the turkey and pot roast so we were all getting hungry. I informed everyone that it would still take around 2 and a half hours to cook. While the food was cooking, we were snacking on random things such as the cupcakes and whatever leftovers my parents had! I finished up the soup by adding the wontons and letting it cook for an hour so that the flavors came together. After an hour, I lowered the heat on the oven to 250 degrees F (121 degrees C). When it finished, I placed the pot roast on the cutting board and then put half of the vegetables and sauce into a blender to make it chunkier. I heated the rest of the sauce by transferring them back onto the stovetop pan (where I originally cooked it). I had the beurre manié (the butter and flour paste used to thicken soup) ready and placed it in once it started to simmer.
Once everything was complete, we placed the dishes onto the table, said our thanks and graces, and had a nice late lunch/dinner. Thanksgiving...when you eat dinner for lunch! I forgot who said that, but it was funny. We all shared stories and ended up so stuffed and sleepy. My brother made coffee so that we wouldn't pass out when dessert came. Good times, indeed.
A few weeks ago, I made Japanese Cream Stew. It has a nice medley of vegetables (carrots, broccoli, potatoes) and chicken breast melded together in a creamy chicken sauce (chicken stock + creamy roux). In Japan, there's a packet mix if you want to cut the time in half and just put everything together.
Looking back, the Cream Stew took a little more time than the pot roast since I had to continually cook it whereas the pot roast did have a lot of steps, but once it was in the oven, it was good to go. Since it was moving towards winter, I thought that this comfort food would help warm things up.
The Finished Product: Japanese Cream Stew with Rice
It was such a nice treat with the softened vegetables and tender chicken in the creamy sauce.
I met up with my brother for dinner after meeting with a client. We went to a Japanese restaurant called East (which I think I've mentioned going there in a previous entry last year). It utilizes the Kaiten-zushi (merry go round sushi) where everyone takes whatever they want from the conveyer belt spinning around.
From left clockwise: The menu and specials, the sushi assortment and chef,
and finally, my cheesecake lol
As you already know, my brother and I usually catch up over dinner since we're usually on different schedules. It was nice though and during that time it was starting to become colder. I kept contemplating on whether to get the slice of cheesecake (I let it spin around 2 or 3 times before I took it), but in the end, it was satisfying.
We were talking about the holidays and what we were planning to do. I do have friends coming to visit and we planned on setting up dates in December on when to meet and where to go. We also talked about gifts and shopping. My brother always gets amazing gifts for everyone. Back in 2010, he got me a new laptop for Christmas and after that he got me a personalized Tiramisu cake (which I think I put the picture in a previous entry). Even though we was always busy and was in another city, he always made time to catch up. Pretty awesome guy.
I was looking on Amazon for deals and I remembered wanting to get a cookbook from chef George Duran. I was reminded because he had his Hunt's Tomato commercial on TV. I also saw his show Ham on the Street back in 2006.
It was New on Amazon for 67 cents so I said, "Why not?" haha What I really liked about the book was how casual and light hearted the writing was. The dishes were all fun twists on such classics like lasagne, smores, cookies, pizza, and burgers. My nephews and nieces will love these things so I'll surprise them for Christmas (and you already know that there will be pictures posted!).
The pictures of Breast Cancer Imperative's latest fundraiser back in October was provided to me by Delia Baquiran's daughter, Alanya. I'm going to try to update the website with the new media we received. Here's a picture of me at the registration desk with Veronica, the one who I worked with in registering guests and handling the donations, along with her two daughters.
As we move toward December and into the new year soon, I want to share something that my aunt shared.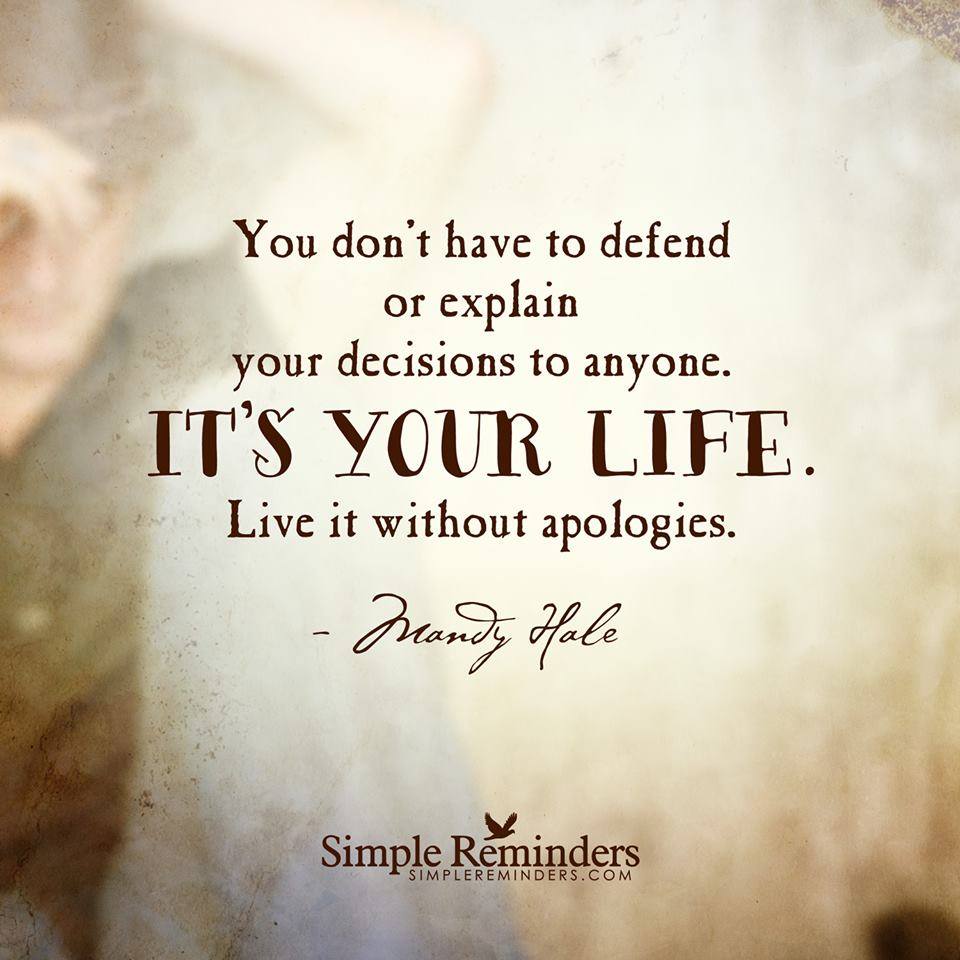 I thought that it was really nice. It was simple and to the point. You can certainly interpret it in any way as it pertains to your life, but the message is clear. You should be able to live your life the way you want to as long as it's not hurting you or others. If it makes you happy, go for it.
Good grief, it's already going to be December! I got 90% of my ESL site completed. I'm very happy with it. I don't like to present something when all of the details don't fit correctly, but the new layout worked out perfectly. I'm going to add a sample lesson worksheet and continually update future lessons (I've already transferred quite a few lessons into the new format). I hope you all enjoy the trip down grammar lane. :)