CONGRATULATIONS GRADUATES!
So many people are graduating this month and I'm so proud of my brother and friends. They all worked hard and now they've tackled the final academic hurdle. To everyone else who's graduating this semester. I want to wish all of you much success and happiness in your future endeavors.
I bought two T-shirts for $6. One is a Dr. Pepper shirt while the other is a Rolling Stones shirt. I was so happy with the great deal. Hooray for bargain shopping! Since summer is coming along the corner, I thought that it would be nice to find things that I can wear to the beach, barbecues, and other outdoor events. They fit perfectly and were really beautiful. Let's see if I'll be able to move like Jagger :)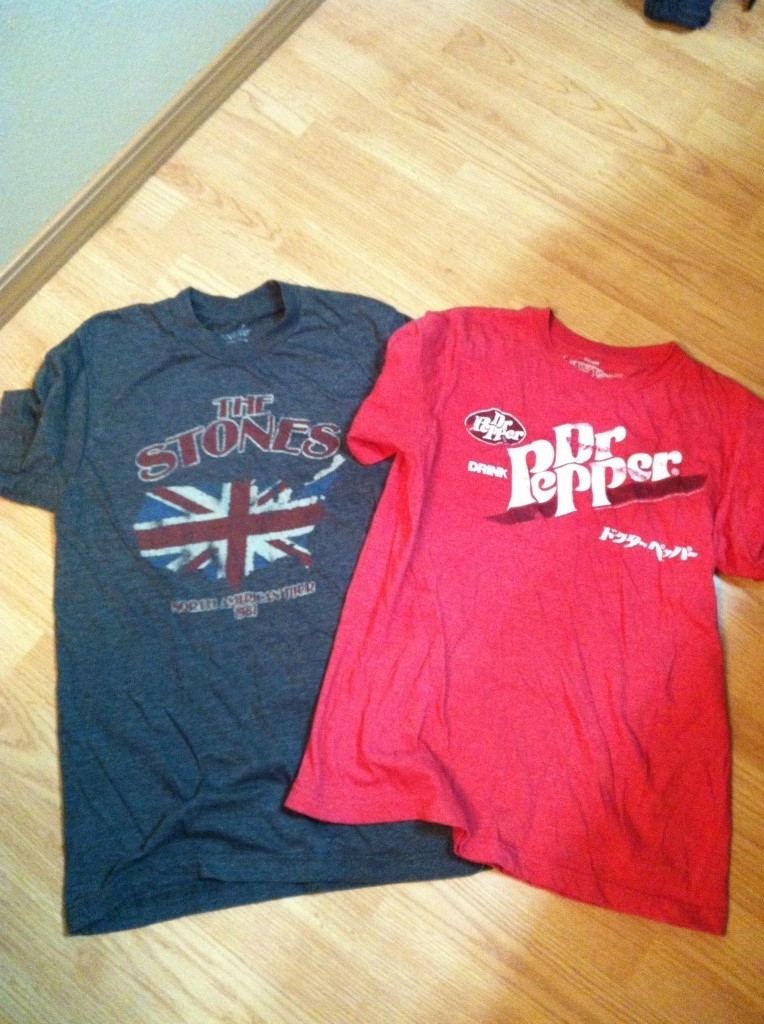 I attended the art exhibition at Rutgers Newark on Thursday. The commute was quite the adventure. I took the subway to World Trade Center, PATH train to Newark, and then the Light Rail from Newark Penn Station to the street near Rutgers. It was my first time taking the Light Rail so I had to fiddle with the directions and figure out how to validate my ticket. It was a learning experience looking lost, but now I know how to use it in the future!
My brother is an artist, and he was presenting his work along with his fellow art colleagues. The pieces were wonderful and they all showed amazing talent. There were many attendees so the room was packed while I tried to maneuver through the various pieces.

The catering woman was so sweet and she did a great job setting up the table and providing delicious appetizers for the event. I couldn't resist the fruits and cheeses!
The art pieces were inspired from many aspects of the artists' lives such as their heritage, an analysis of pop culture, and spirituality to name a few.
Inspired by the elegance of African female attire:
Inspired by the celestial bodies and alchemy:
I enjoyed hearing the artists' perspectives and their path to their final pieces. You can see their family and friends show their love and support throughout the event.
The exhibit will be available for view for the next two weeks at the Paul Robeson Art Gallery at Rutgers Newark. Feel free to check it out when you have the chance!
I would like to share this video of a guitar cover of Katy Perry's "Firework" to summarize everyone's achievements. Cheesiness aside, it's nice to acknowledge our accomplishments since it's not that easy to actually tackle things so easily. I know that I've felt the pressure along the way when I had to write my thesis or make sense of theories that felt like they just went over my head. Katy Perry wasn't popular yet when I was in college, but the message stayed the same to try and persevere.
Some tips that really helped me was to fold a piece of paper in thirds, write down my skills on the left side, write down my future plans on the right, and write down what I need to take care of in the middle. When I actually visualize that I can't get to the right without successfully completing the middle by using the left as tools, I organize ways to handle things step by step so that I don't overload myself. When I had appointments to attend to, books to read, and jobs to handle, it would look overwhelming if I don't prioritize.
There was a huge difference with "I have four appointments this week, I also have to read three articles and two chapters, and I have to be at work from 10 to 7 on Thursday"
and
"I have my eye appointment on Monday morning so afterward I can read the two chapters over lunch, meet with a client on Tuesday morning, conduct two counseling sessions Wednesday afternoon so I can come in early at the Center and tackle two of the articles before the sessions, focus on work for Thursday, and read the final article on Friday."
This technique made it so much easier when I had to tackle intense workloads. If those of you can benefit from this technique, I'll be happy to know if it helps you too.
Enjoy the song and celebrate with your loved ones!