I have a fun entry for July that I wanted to share with all of you. The title of the post popped into my head because of the main topics in this entry: Snapchat, Kate and I cackling as we made videos, and pop music (but music in general).
Summer is halfway finished and pretty soon the autumn leaves will fall to the ground. One thing that stood out this summer was the comeback in popularity regarding Pokemon. My friend and I were discussing it last week since her son was playing it. Everyone has been enamored by Pokemon Go. While we're on the topic of Pokemon, I have a Pokeball paper clip and staple holder that my brother gave me awhile back. I think that it's adorable which is why it's a staple part of my desk.
Gotta Catch 'Em All, Pokemon!
I did play Pokemon when it first came out, and I remembered trading with my brother and friends to try to collect all of the original 150 Pokemon. I did see Pokemon Go's gameplay from my friend's son, but I think I've Pokemon-ed myself out from the old games to start this one. haha But I do think it's a nice little adventure though for those who are engaged in it. As long as you play safely, certainly go for it!
Kate and I met up before she had to go back for her summer holiday. It was nice because it wasn't too hot yet at that time. There was a heatwave in the New York City area one week ago so it became really uncomfortable if you stayed exposed to the outside heat too long. Fortunately, the rain came to cool things down for a bit. My Tía and I were talking last week and we discussed how crazy the weather had been. We had the heatwave and then a huge downpour. We then laughed it off and talked about arepas to lighten the mood.
So back to my meet up with Kate. She got me hooked on Snapchat that day. We were playing around with the filters and snap options which turned into crazy shenanigans! In some instances we tried to make serious faces, but it took several tries after we had a hard time containing our laughter. We did face swaps and made some videos which I will share here.
Kate and I made a lot of Snaps, but here are a few that we made:
Top left: Kate and I as doggies
Bottom left: Face swapping with Channing Tatum
Right: Me as Raphael from TMNT
It was really fun and it passed the time. I did not think Snapchat would be as addicting when Kate first told me how fun it was. I promised her that when we met up we'd play around with Snapchat. In the middle of our Snap session, a very nice tourist approached us. She asked us if we could take a picture of her. I took her picture and wished her a nice time during her stay here. Who doesn't love a good picture?
We also tried to play around with the videos. Here's the video that Kate and I made together (you can hear her laughing at the second clip when I was the zombie):
3 Parts in this clip:
(Part 1) Me as a Teenage Mutant Ninja Turtle
(Part 2) Me as a zombie
(Part 3) Me as a firefighter
Kate and I couldn't stop laughing when we were doing the videos. The zombie one caught me off guard because I didn't know what to do or how to react. I just opened my mouth while the app screamed for me. For the rest of the snaps, all Kate told me to do was to look at the camera or open my mouth as we took them. I tried to contain my laughter when I rewatched the zombie clip and our faceswaps with each other (we promised each other we wouldn't post those online haha) when I was on the train.
We then headed to Gregory's Coffee for an evening snack. I got a small coffee and a brownie while Kate ordered a hot chocolate and a chocolate chip cookie. We caught up on how things were going and what she had planned to do for the summer. She was going to do a bit more writing and rest before returning here to the States in the fall. It was nice inside the café because it was pretty mellow. Since it was on a weekday evening, it wasn't too crowded. The patrons were all relaxing with their drinks while Kate and I continued telling our stories to each other.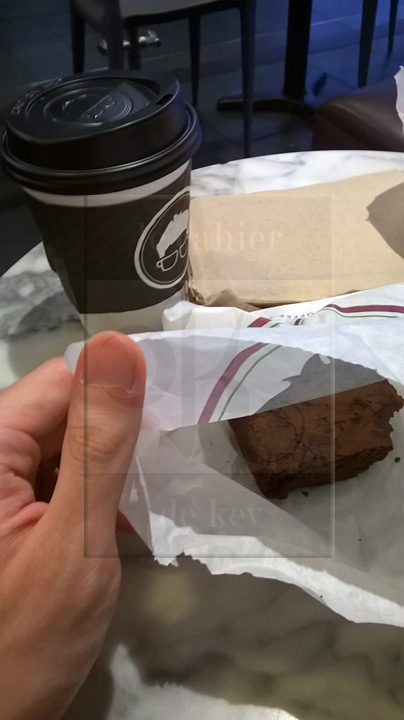 Brownie and a small coffee
A nice treat!
After our evening snack, I walked her to the subway station and wished her a safe trip. Since she's doing a lot more writing, I gave her a few books to read for her flight back. We planned to see each other again in the fall/winter.
I have always found listening to radio to be very therapeutic. If I'm driving at night I will usually have the station set to 106.7 Lite FM since it's more relaxing. During the day, however, I usually have my own version of James Corden's Carpool Karaoke!
With my phone, I play the FM radio while I get typing done (usually when there's Wifi, I can't use up data!). Although it's fun for me to listen to songs on my playlist while exercising or eating lunch, I've always enjoyed the random songs that pop in while I listened to the radio. Sometimes I'll hear a song that I completely forgot about or I find something new for purchase. I was happy to hear some of my favorite tracks such as the ones featured below.
Listening to some Maroon 5 @ 2 AM
106.7 Lite FM
The station I usually play at night in the car
Music has always been such a comforting thing for me. Whether the situation was positive or negative, music still played an important role to help me reframe my thoughts. I can certainly tell you that I remember being the angsty teenager who had to sort out my feelings as I listened to songs to find my "anthem" (oh adolescence haha) But I can also tell you the song I listened to at the airport while I visited family or what was playing in the car when my friend and I went out for an end of the week dinner. For example, one thing that comes to mind is that LeAnn Rimes' version of How Do I Live reminds me of sitting at the movie theater answering the Coca Cola trivia while waiting for the movie to start. I think it all ties in with how I value memories (which many of you can see through this blog).
Also, I still have my old CD player and many of the CDs that I purchased in the late 90s/early 2000s. I remembered how much batteries I had to use when I brought the CD player along trips. For many electronics now all you have to do is charge them before you head out the door. Very convenient indeed!
My old CD player and a few of my CDs
I bought the CD player from FYE. I don't know if there are any left around here in the East Coast, but back then they were everywhere. The FYE stores were usually found in every mall that I visited. I do remember my brother buying me a Jelly Belly Blueberry scented gel case for my Ipod from the FYE near his old job since the FYE was going out of business. That was around 5-6 years ago.
Although digital music is the main way people receive their music nowadays, I still enjoy going to a physical store to look around and admire the CD's album art. When I went to look for my CDs at a traditional brick and mortar business, I would take my time to look around and sometimes find a CD that I planned to purchase but forgot about. After buying the CD, I would sit down in my room, open the CD case, and look at the booklet attached to it. It was filled with photographs, lyrics, and the special thanks and going through the booklet felt like an experience where I was getting to know the artist. It did feel more like an activity that I engaged in as I placed the CD into the CD player and read the booklet while I focused on the music. While digital music is pretty convenient (can you imagine having to lug around all of those CDs along with the CD player or having to change the batteries often?! haha), physical CDs still have that special place in my memories and heart.
It wasn't until I started listening to my physical CDs again that I took time to sit down and just listen to the music instead of simply playing a song in the background while I did some typing. Another plus was that I also found a lot of hidden nuggets from songs that were not featured singles in the CD as I let the entire CD play.
After I reorganized my CDs, I took a look and listened to a lot of other songs I used to listen to. Here are a few recommendations that I wanted to share with all of you. Some of you may or may not remember them, but they are quite nice songs.
Stay the Same by Joey McIntyre
A Puro Dolor by Son by Four
I Want You by Janet Jackson
Fighter by Christina Aguilera
This Is Your Night by Amber
Everybody (Backstreet's Back) by The Backstreet Boys
This Love by Maroon 5
Everywhere by Michelle Branch
One More Time by Daft Punk
Around The World (La La La La La) by ATC
Why by Tiggy
These are just a few (since the list can become quite long), but I might create a music collection playlist on my site so that you can check out what I'm currently listening to. One song that has been stuck in my head right now is Ciudad Mágica by Tan Bionica. The first time that I heard it was when Mauricio Macri was elected president of Argentina. I can't get it out of my head especially when Chano (the lead singer) sings the "Parapa parapa pa pa" part! (It's around the 1:50 mark)
Ciudad Mágica by Tan Bionica
To conclude this entry I want to share a fortune that my brother gave me when I met up with him for dinner a few weeks ago:
It's a cute message, but it does have a point. Personally speaking, I learned early on in my life that complaining or getting upset won't help me progress. The only to overcome this defeat was to work on picking myself up and find a different approach. Mathematics was pretty tough when I was first learning it when I was younger. I remembered spending so much time on a problem and when I checked the solution at the back of the book, it was completely different! If I had admitted defeat when getting overwhelmed by proofs or other material, I don't think I would have been able to do what I am doing today.
The thing that ties all of these elements together (the Snaps, the music, and the fortune) is that we are constantly evolving (from flip phones to smartphones with advanced apps or moving from physical CDs to digital music), but that does not mean that we have to completely disregard these elements from the past.
As I typed this entry, I revisited a lot of memories regarding how things changed for me as well as with my relationships with others. I think that's what inspired me to redesign my main site. It was like moving from the physical CD to digital media. The core of the matter is there, but the form is just different as a result of evolution. Lecahierdekev from 2012 is still a part of the 2016 version, but new elements have been introduced. The heart of the site: the blog entries and focus on math and science is still the foundation.
Those of you who are trying to catch up on last minute holiday/vacation plans or are engaging with these new apps like Pokemon Go, I hope that everything progresses well. (I just looked at the brownie and coffee picture again and I suddenly had a craving for some hazelnut coffee.) Stay safe and wishing all of you the best.
And don't forget, don't be a soy loser!