The new year has been rolling by quickly as the end of February approaches! Speaking of new year, many of my Chinese friends wished me a Happy Chinese New Year. It was nice to hear about wishes for success, health, and happiness. I'll share their wishes onto all of you and hope that all of you and your loved ones have much success, good health, and happiness for the year to come.
As I discussed before, the winter weather came in a little later than usual. We did have sporadic snow and rain combinations in the New York area. I do have a few pictures and a video that I wanted to share with all of you so that you can see the current winter weather in New York City. Even with boots on I almost slipped a few times! haha
Me Wearing My Ushanka Hat
On days with very cold weather I would wear my ushanka hat which had been a true lifesaver for me. The one thing I like about it is that it protects the entire head. When there's a combination of wind chill and precipitation, I need all of the protection that I can get so that I don't turn into a snowman!
During the snowstorm in January, it would've been insane to walk outside to capture the video (but I did take pictures though!). It would have just been blinding snow! It did seem nice to just relax and watch TV/movies while the blanket of snow covered the roads, but believe me it wasn't fun having to shovel the snow the next morning. :) One of my neighbors was saying that she had to catch a flight the next day and was hoping that it wouldn't get cancelled.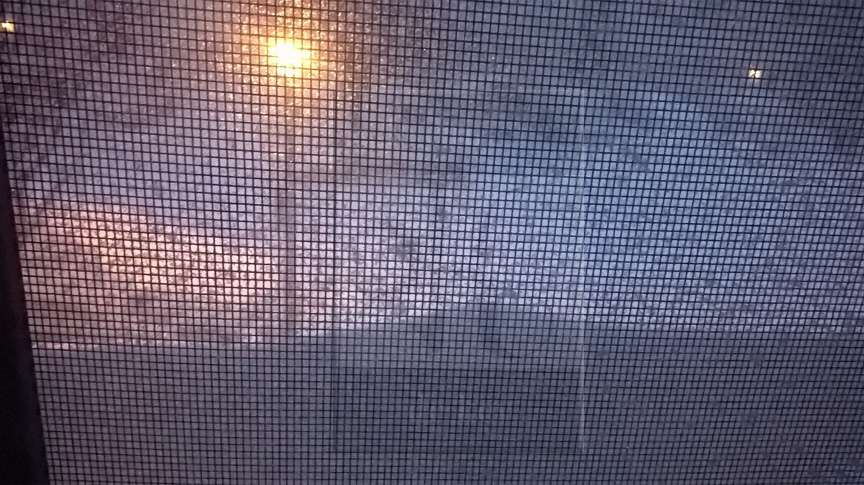 A look outside during the snowstorm on Saturday
(It looks like an arctic country, doesn't it?)
The day before the snowstorm I had a conversation on the bus with a British acquaintance who works in Midtown. We discussed how things were going and how we were prepping up for the snowstorm. We remembered bumping into each other the year before with both of us wearing boots due to the crazy weather. As always we had our laughs and wished each other a safe trip home. On the day of the snowstorm (Saturday), the roads were closed and public transportation was temporarily suspended. As you can see from the picture above, the visibility was limited and the snow was slowly piling up. Since the weather had been balmy and mild during the holiday season, this snowstorm was going to be the first taste of winter that our area was going to experience. Thankfully, it went by quickly and only lasted for a day/day and a half. When you look at the next picture, you can see just how fun the snow was. haha
Snowstorm from January 2016
(Left) Snow piling up Saturday evening
(Right) Road outside on Monday
On that Monday, I met up with Ms. Baquiran to share media and information since she got a new computer. I organized pictures and powerpoints that she planned to use when presenting abroad in the Philippines. Our temporary site is up (link is in my main site under recommendations) and the website email works if any of you have questions. The site has pictures from our latest fundraiser from 2014 as well as the articles written by journalists. There were a couple of things that we tackled including the creation of the self breast exam pamphlet and the maintenance of BRCAI Inc.'s media and documentation. Despite the snow from the weekend, we were still able to smile as we worked on BRCAI Inc.'s organization of media and communications information.
In the following video, I walked through Rockefeller Center as it was snowing on President's Day. The snow that day wasn't as bad compared to the snowstorm that we had last month. After it snowed it ended up raining which basically cancelled everything out. A few days later we had warm weather again so whatever snow remained quickly melted. In a sense it made it easier to traverse the sidewalks and roads compared to the previous years when it remained cold. During those years, it took a bit of time for the snow to melt.
The light snow was beautiful together against the backdrop of the ice skating rink, wasn't it?
Despite the hectic weather, there's a certain charm of serenity in the air. I guess that since there are remnants of snow and the weather is colder, everything moves more slowly. The usual fast paced walking and rushing to get from Point A to Point B didn't have as much priority. It was more along the lines of "as long as we got to our destination safely then it's fine." For me as long as there's sunlight and the weather isn't extreme, I'm happy (which also reminds me that it will be daylight savings time in a few weeks so the extra sunlight will be a pleasant welcome). I think that when there are so many things going on you try to multitask and your mind moves in a million directions. When things moved more slowly, it decreased stress quite a bit for that moment.
Regarding my main site, I updated the look and added a few link recommendations. The background makes it look like the cover of a mathematics textbook. haha However, I thought that it would be more appropriate since mathematics and public health topics are what I usually cover. I also thought about maybe adding a music playlist for song recommendations in the near future. I love music, it's gets me through exercising and commuting!
From my playlist
Ken Hirai, one of my favorite artists
(I have a whole playlist devoted to his music!)
I did put a link for a music streaming service (Jango) under my recommendations. Ms. Baquiran would have music playing when we would get work done. She introduced Jango to me when she streamed holiday music in December. We were scrolling through the stations and I ended up liking their service from what I heard. Moving through my playlists always brought back a lot of memories. One of the songs I stumbled upon was Christina Aguilera's "The Voice Within" and I remembered my friend texting me that she was at the concert for the Justified and Stripped Tour for Justin Timberlake and Christina Aguilera. It was held at the Izod Center (back then it was called the Continental Airlines Arena) in East Rutherford, New Jersey. She was so excited and you could tell from her text messages that she loved being there.
I have been writing blogs for my site since 2012 and each blog has brought back different memories. Although I would cover the contemporary happenings of the month, there would be some aspects that would help me revisit the past. For example, rewriting my handouts and notes reminded me of Professor Bower's East Asian Art class. Of course, not all of the memories will be positive. I've written about past break ups, disappointments, and stresses in my handwritten personal journal/diary. They are all a part of my life (both positive and negative memories) leading to the journey into the present time. As I had wished everyone at the beginning of this entry, let's all hope for much success and happiness for 2016!
After I publish this entry I will finish up a mathematics handout I had been working on and then post it to the Mathsci site after double checking everything. The next handout will be the next part of the medical law and ethics. I try to alternate between the mathematical/scientific and the law concepts to give it a nice balance for my followers and readers.
There is also an event I will be attending soon which I will discuss in the March entry. Stay tuned for that. In the meantime, I hope all of you are well and am always wishing you the best!