Hello everyone! We're heading to our final month of 2015 as the holiday season moves along. My site turned 3 years old last month. I couldn't believe it. It seemed like yesterday when I was transferring everything to my new domain.
In my last entry, I dedicated the entire post to New York Comic Con since it was a huge event here. I have pictures from my cousin's wedding and catching up with my best friend at a Japanese restaurant to include in this entry. It's nice to write this blog as a little break from all of the formal course notes and handouts that I've been writing!
To those of you who celebrated Thanksgiving in the States, I hope you all had a nice time eating and spending time with your loved ones. I had a great time with my family. The week before my aunt and her family visited since they had to go to New York City. My other aunt was in New York for a finance and banking conference, and they planned to have lunch with her during her downtime. I also spoke to Dr. Cowart to wish her a Happy Thanksgiving and catch up on how her family and her were doing. As always we had a lot of laughs and stories on the phone.
Here's the Snoopy greeting I sent as a text to family and friends:
In late September, my cousin got married. My cousin and his wife both had Hindu and Catholic wedding ceremonies. The wedding reception took place at The Fiesta in Wood-Ridge, NJ. I've been to The Fiesta back in high school when my family and I attended an award ceremony. The place was beautiful just as how I remembered it.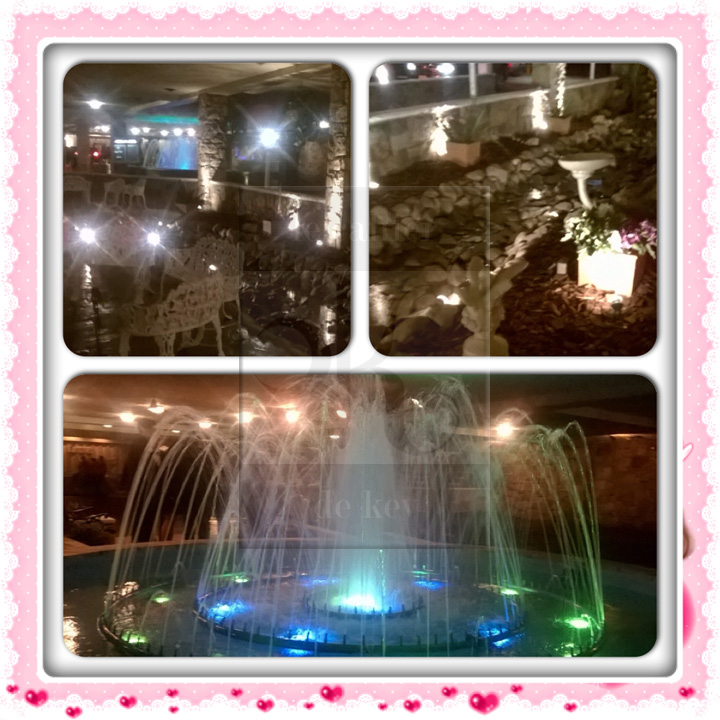 The Fiesta exterior
I liked the colors on the fountain
Before heading to the main ballroom, everyone congregated for cocktails and hors d'oeuvres. Inside I saw a lot of extended family and friends who I had not seen in a long time. One of them was Auntie Mira who I used to see often when I would take the bus home from work years ago. We would chat about what we were going to have for dinner. She stopped by the local Vietnamese restaurant to pick up dinner before she headed home since she didn't want to cook. haha She moved to the Midwest shortly after and she told me how the family was doing there.
There were a lot of hors d'oeuvres including cold cuts, mozzarella balls, mini raviolis, chicken, peppers, and olives. There were a lot of dishes to choose from, so I got a plate and I went around the room. I was so happy when I saw the tray of calamari. The calamari and sauce were delicious. It was hard to take pictures once I filled up my plate. I sat down at the table with my nephew, cousin, and family friends from my mom's side. I caught up with my friend, and he asked me if I wanted something from the bar. Around that time, I unknowingly threw two peppers in my mouth and chewed them since we were talking (I didn't pay attention to what I was scooping from my plate).
I smiled and tried to alleviate the heat as I nodded and asked for orange juice. In the meantime, I was filling my mouth with pasta hoping it would do something (but it didint! haha). He came back, and I drank some juice to let my mouth cool down. There was a lot of picture taking with family so we would huddle together and smile for the camera.
Ice Sculpture and Hors D'oeuvres
After talking with my friend and the family, they opened up the main ballroom. We all headed inside to our designated tables. The space was huge and very elegant.
Entering the Main Ballroom
The other end of the ballroom
The white table in the middle is where my cousin and his wife sat
The Dance Floor and Chandelier
The Centerpiece at our table
As the wedding party was getting ready to do their entrance, the servers asked each of us what dishes we wanted to have for the evening. I chose a Cesar salad as a starter and the filet mignon for the main course. The other options you could choose from was a spinach salad and salmon for the main course. There were people who wanted their pictures taken so we would all switch roles as photographer.
The emcee directed our attention to the curtains at the back and told us to give a round of applause for the wedding party. The groomsmen, bridesmaids, best man, maid of honor, and the parents of the couple were grouped together as they made their individual entrances.
The Wedding Party's Entrance
Top Left: The bride's parents
Top Right: The groom's parents
Bottom Left: Best Man and Maid of Honor
Bottom Right and Center: The Newlyweds
The wedding party members were dancing to the music so it was a little difficult taking their pictures. It was very festive and everyone got into the music. After their entrance, they began with the presentations for the evening. The groom and bride shared their first dance together as the wedding party cleared the floor for them.
(Left) The Wedding Party clearing the floor
(Center and Right) The couple's first dance
It was very sweet when they held each other and looked into each other's eyes. Afterward, the groomsmen and bridesmaids paired up together and joined the couple. The ringbearer and flower girl also joined in. It was very adorable.
Top: Wedding Party dancing
Bottom Left: Bride dances with her father
Bottom Right: Groom dance with his mother
The wedding party then gave the couple some room as the emcee introduced the traditional dance with the parents. The bride danced with her father and he gave her a big hug. Afterward, the groom smiled at his mother as they danced together. All of them looked so happy and they were nice dances to witness.
The rest of the night was filled with dinner, dancing, and presentations. The bride and groom sat down after the dance with their parents. The maid of honor and the best man asked everyone to hold up their champagne glasses as we all prepared to toast the new couple. They both gave their speeches and shared funny anecdotes from their memories with the couple. The best man even had a picture projected on the screen of the groom and him as kids when they first met in elementary school.
Top Left: Cesar Salad
Bottom Left: Filet Mignon, Baked Potato, and Asparagus
Right: Lime Sorbet
After the speech, the servers gave us our main dish (the salad and sorbet were given during the dance and speeches). As we ate our dinner, they played a slideshow of the bride and grooms from their childhood and up until they met. They also played the video of the groom asking for the blessing of the bride's parents as well as their proposal.
It was a good night and I got to catch up with old family and friends. I rarely get to see them so it was good to sit down and celebrate with everyone.
A few weeks ago, my best friend was in New York City for a conference. I told her that I would meet up with her after getting work completed. We met up near 42nd Street to catch up for a bit as we waited for her other friend since we were all having dinner together. We caught up on how she was doing and how she's finishing up her residency. I told her about my research and work and we laughed at how fast time flew by. When we were undergraduate students, we would become so stressed with the science classes, but we were able to balance it out with fun electives such as Japanese.
Speaking of Japanese, I was cleaning out my old books and notes, and I found my notes from Professor Bower. If you remember from my previous entries, she was my professor for East Asian Art (Chinese and Japanese focus) who was my inspiration for writing course notes and handouts. In the next entry, I will show you a snippet of how organized and detailed her notes were which became my current approach to writing handouts. It also helped me a lot during my grant writing work. haha
We had dinner at Sake Bar Hagi located on W. 49th Street. The restaurant features affordable Japanese food (in case you are craving that during the evening). It's a hidden joint that took us a few minutes to find, but when we did, it was bustling on the inside.
Our dinner at Sake Bar Hagi
Top Left: Various skewers- chicken, meatball, chicken skins, peppers; the right is sliced squid
Top Right: Omusoba (Yakisoba noodles and pork wrapped in an omelette, topped with okonomiyaki sauce)
Bottom Left: Fried Oysters
Bottom Right: Chicken Garlic Fried Rice
We all decided to share family style. The food was good. Jenny's friend told us how his studying was going and how he was preparing to take the next Step exam for medical licensing. The evening went by quickly. The place was packed, and the three of us were sharing stories throughout dinner. After dinner, I hugged Jenny and said my goodbyes to her friend. We all wished each other a good night and safe trip home.
In other news, I'm sure many of you know what's been going on around the world recently. I spoke to family, friends, and Dr. Cowart about these events a few weeks ago and we all just hoped for peace and happiness for the future. Blessings are such an integral part of our lives whether it's our loved ones or the once in a lifetime opportunities that we get to experience. I wish all of you the best as we approach the conclusion of 2015.