The summer went by really quickly and I couldn't believe that my last entry was in mid-August. It certainly felt like it was just last week when I updated! I'm also going to finish adding the "tags" to my previous entries since I forgot them the first time.
I do have a couple of pictures to share (I'm sure a lot of you already know that there will be food pictures!). The summer was relaxing, and I was able to take some time to finish some major things from my "to do" list. I'm going to try to piece the events together as closely and chronologically as I can so hopefully I can give the gist of things.
I had to make Japanese curry for dinner one summer night in August, but I didn't have time to drive to Mitsuwa, the Japanese supermaket in Edgewater. Luckily there's a Sunrise Mart in the East Village which was convenient for me. As I entered, a nice Japanese woman and I waited for the elevator. The elevator is the only way to get to the supermarket on the 2nd floor. To get to the stairs, you have to pass through a restaurant. Even then, they'll only let you use the stairs if the elevator is broken. Anyway, we both smiled at each other and entered the elevator (it's pretty big compared to the ones you see in office buildings).
As I entered the store, Demi Lovato was blasting on the speakers. Surprisingly the music they played during my time there was catchy. I picked up a shopping basket, bobbed my head to the music, and walked around with my list. The aisles are small so I had to really focus on what I needed and made sure to not get stuck. haha
Walking through the aisles
I was also reading the labels of other tasty products such as Matcha Tea and red bean popsicles (hooray for being half Japanese!). It was pretty tempting to get more things, but I focused on cooking ingredients and a treat (the gummy candies). It was a relaxing experience and there were many students who returned early to their apartments who were shopping for Japanese groceries. I really wanted to get as much stuff as many of them, but it was a hot day so I couldn't carry fish or anything fresh since I had a meeting to attend afterwards. There was a line at the check out counter, but it moved really fast.
The bulldog is something I always need in stock for cooking
The peach gummies are always my favorite
I had to renew my passport during the summer. I was excited since I had the old one which was not biometric so I was hoping to get the new one with the bigger 52 pages. Since I have family abroad, the passport is important for me to visit them in case of emergencies. I had my picture taken midsummer, and I was happy with the way it turned out. It didn't look as mugshot-y as my old passport photo!
I sent everything together via priority mail on a Tuesday with a delivery and signature confirmation for Friday of that week. As I was checking the tracking information on my phone everything seemed to be in order. That is...until Friday arrive. On Friday morning, I checked the tracking information and it went from the sorting facility in Long Island to Los Angeles, California! I was nervous that it may have gotten mixed up so I was praying and hoping that it would make it to Philadelphia. On Monday morning, I was relieved to see that it was signed for and delivered in Philadelphia at the Passport Facility.
About 3 weeks later (just before it would hit the 4th week), I received my new passport. It was beautiful, and I was so happy that I received the 52 page one since I travel often. I know that some people would check the 52 page box and they would sometimes receive the 28 page one or even vice versa. I don't know the criteria that the Passport Agency use to choose, but hey, if they both cost the same during renewal, why not get the bigger one, right? Adding pages cost $82 now (when it used to be free) so it is a better deal moneywise.
A little bit thicker, but still portable
We're going to have our fundraiser soon so it's been busy getting tickets out and getting the preparations ready. I met with Delia Baquiran in early September. We were discussing updates to the website, preparations for the presentation on October 9th, assignments for the team, etc. Delia showed me the flyers and tickets and everything seemed to be going along as planned.
We also caught up on how her trip was and she showed me the video from the launching and blessing of the MAMMOvan in the Philippines. She looked so proud in the video, and Delia told me that she was crying from all of the support. It was beautiful and we're going to show it at the fundraiser on October 9. New media such as pictures and the video will be put on the website after the event. We wanted to update everything along the way. After our meeting, Delia had to send out the invitations, buy some supplies, and meet with another member of the team. She gave me a small "Make Your Own Smores Kit" to go as thanks before we parted ways.
Very cute! Hershey's chocolate, graham crackers and marshmallows
Enough for two ;)
Getting ready to put the smores together
I met up with my brother one night because we planned to meet for dinner to have our usual brotherly catch up time. He works near the Chelsea area so I decided to meet him there after meeting with a client. He recommended going to New York Burger and Co at the Flatiron location on Sixth Avenue. He's been to this one a couple of times and it was my first so I checked the menu to see what I'd like to order.
My brother ordered the Chelsea Burger, cooked medium with cherrywood smoked bacon, cheddar, and 1000 island sauce. I ordered the Soho Burger, medium cooked burger with portobello mushrooms, swiss cheese, grilled onions, and NY burger sauce. They also had a sauce bar so I tried out the Basil Pesto for half of the burger and used the Chipotle Honey for the second half. They were both really good.
Unwrapping the Soho Burger
The Soho Burger
I globbed the Basil Pesto on the left side of the burger because I was hungry
so I apologize for the messiness!
It was really delicious and cooked perfectly! My brother and I were talking about each other's plans for the Fall and Winter. He was excited about Halloween because he gets to wear his signature costume. I told him about our fundraiser, laughing about how I've been a lot more focused on English grammar now that I'm helping clients with ESL, and working on designs and projects. My brother also told me about events that he's going to attend within the next few weeks so I wished him the best and hoped that he would enjoy them.
It was a nice dinner and wasn't too crowded. I asked him how packed it was during lunch hour and he told me that it was very busy. We also talked about how family was doing. I told him that it was pretty interesting how much more connected we were with family compared to a couple of years ago. He laughed because I told him how family always wanted to Facetime or Skype since it was easier for them to reach me now. The PATH trains to 33rd street weren't working which made the commute a little more hectic. I told him that I had to take the PATH to World Trade Center and then take the R train to midtown. Thankfully, the trains started working again the next day.
It was a nice night and we promised to catch up with each other again in a few weeks.
I started working on developing my ESL site for clients, students, and conversation group members. I usually had my lessons on paper or Powerpoint so I am currently transferring them to Prezi format. I was able to attain an educational license for Prezi, which is a program that makes presentations more lively and colorful. Think of it as a more animated version of Powerpoint. I started designing the site and added links to my first few lessons. It should be up shortly after I update this entry. I wanted to have all of the major pieces together before I published it on the world wide web. Here is the link to my ESL site.
Here is a snapshot of the current design. It should be up soon. I added that picture of Patrick because I loved it when I saw him have the glasses and notes!
I met up with one of my good friends Gail for lunch. We used to work together professionally a couple of years ago. We met up outside Gregory's Coffee on W. 44th Street and she told me that they were filming across the street. The crew was getting the equipment ready and covering up the venue on the other side. We didn't see anyone whom we recognized, but it was pretty neat. Oh New York, you are always full of surprises :)
The last time we met up was in late Spring. Our schedules usually conflict so when we see each other, we always have a lot to talk about. Despite the fact that we only see each other from time to time, we usually catch up over the phone to discuss major events in our lives. I took her to Cafe Zaiya at the top of Kinokuniya bookstore. The food is affordable and the location is beautiful--overlooking Bryant Park. As we were looking around she asked me what I was going to have. She picked out a chicken sandwich while I picked out a lunch box combo, which came with three types of sandwiches (tuna, ham, and egg salad), chicken karaage (Japanese style fried chicken, and a sweet dessert).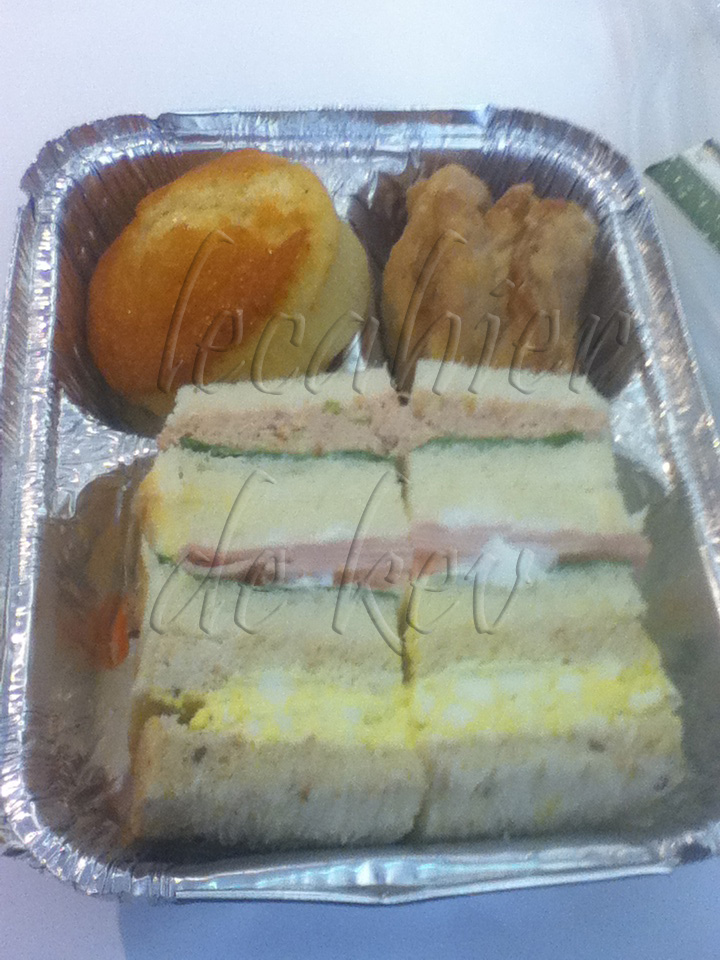 Sandwiches, Chicken Karaage, and Dessert
We had a great discussion on a variety of topics. She asked me questions about the health field specifically about pharmaceuticals and public health work. We also discussed professional development and end of the year affairs. Time really flew by and we decided to get some fresh air at Bryant Park before we said our goodbyes. We went outside and it was beautiful. Everyone was basking in the warm weather. People were eating their lunch, tourists were taking pictures, a few people were reading under the shade, and others were just having a brisk walk.
We talked for a little bit more and took pictures before we left. Since she hasn't explored a lot of Manhattan, I told her that I'd take her picture like a tourist and she laughed. I told her that since I work with a lot of professional immigrants they would always ask me what my ethnicity was. I couldn't count how many times I had to say "French Brazilian-Japanese", but we both laughed about it.
As far as television goes, aside from Top Chef Duels and The Mindy Project, I've also watched Gotham and Red Band Society. They were both pretty interesting in their own ways, but in terms of Red Band Society, I did my clinical internship in Pediatric Oncology/Hematology, and the children/teens do not get into crazy situations as they do in the show. The facilities are modern and nice which I definitely saw since the pediatric patients were able to engage in games and other activities, but seeing the teens on the show drive a doctor's car to get liquor for a party just seemed weird haha It was a funny scene in the liquor store when the other patient spoke in Spanish to make the store owner smile and lighten up. (Speaking of Spanish, I've been using it more and more now so I was surprised at how much I remembered from what I learned when I was younger.)
Gotham was dark, but it did keep my attention. The main focus seems to be on how Commissioner Gordon rose up the ranks in the Gotham City Police Department. I don't know what direction it's headed, but I thought that the actors and actresses did a good job. I noticed how clean their words were, but if it were on HBO they'd probably be swearing up a storm. There were a lot of instances when I could see a swear word be substituted, but I guess since it's on Fox, it's no bueno. :)
I think I covered most of what I wanted to catch up on. I'm sure you all knew this entry was going to be published today since I at least publish one entry per month. I'll see if I can divide it some more for October if time permits. I hope you're all enjoying the cooler weather...pretty soon it's going to be the holiday season again!