I want to wish all of you a Happy New Year! Today is the last day of 2013 so I want to wish you all of you much success and happiness for 2014. For those of you standing in Times Square, please stay warm! It's pretty chilly compared to the warm weather we had a week ago.
I just finished cooking half of our meal for our new year's celebration. The ham is roasting in the oven so I'm going to use this time to write an entry. Later on will be full of celebrating, toasts, music, and laughing so I won't be by the computer. :)
The holidays went really well. Family came together at my parents' house and we all ate, video chatted with family from around the world, and shared stories. There was so much food and the desserts were pretty heavy. Every time we eat we always make sure to have coffee ready haha We were all using Facetime from my phone and showed each other our gifts. Can you believe how advanced communication is now? I remembered using a cell phone that could only text and call a long time ago. Now everyone can take pictures, go online, play games, and other advanced functions. But it has made it so much easier to keep in touch. My parents got a kick out of it since they got to see their relatives on the phone.
Before Christmas, I rushed to get some holiday shopping done. It was fun and quite the adventure, but surprisingly it turned out great. I didn't spend as much as I had anticipated and was relieved that there were a lot of sales. It was busy, but I made sure to avoid places that would be really crowded.
The Monday before Christmas, my best friend visited and we spent the day together. It was a day to just relax and not think about work or pharmacy modules to complete (or anything stressful at all). We met up early at the Union Square holiday market. We saw a lot of stands that visited in previous years such as Wafles & Dinges and the booth that sells hand warmers. It was really hard to concentrate since we both left early to get to New York so we didn't have a chance to eat breakfast. As we were looking at possible gifts and trinkets, all we could think about was where to eat. We looked at each other and we knew that we needed to find a place to eat.
We rattling out restaurants and we finally decided to go to Alice's Tea Cup Chapter II on E. 64th Street. We took the F train to Lexington Ave/63rd St. and walked up to the place. On the way there we saw a pet shop where all of these parents and children were looking at all of the adorable puppies. The puppies were very playful and energetic. The families and kids were taking videos and pictures. It was really nice.
We went into Alice's and it was busy. The place was packed and there were a lot of reservations. It was understandable since it was the holiday season. Jenny put her name down and it was around a 25 minute wait. We chatted about her moving through her residency and what lies ahead. We both were laughing when we mentioned how we had modules to complete for our continuing education, but the holiday season is making it hard to focus on completing them! It was also a special celebration since we've been friends for almost a decade.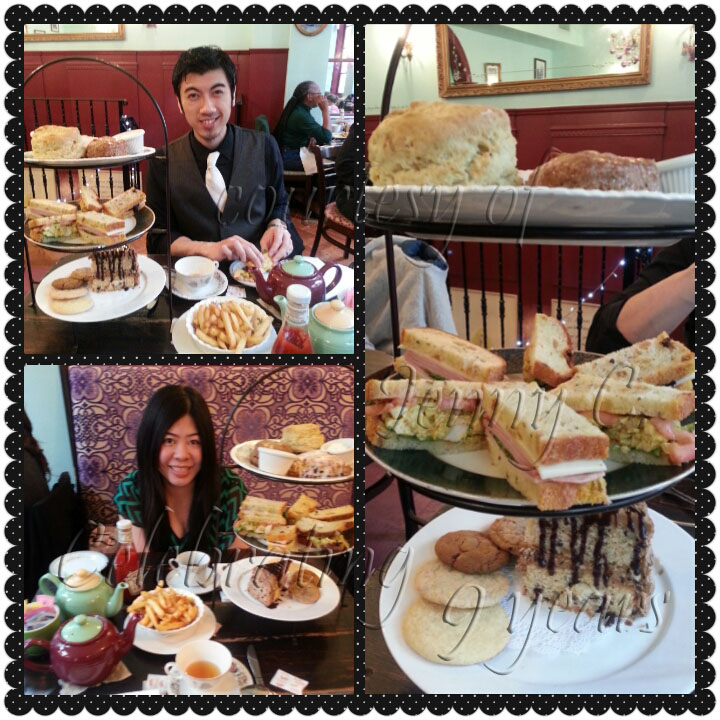 We got an order of French fries and the "Mad Hatter for two" which included two pots of tea, three scones, two types of sandwiches, four cookies, and a choice of dessert (either mocha cake or lemon tart).
For the tea, I got the Cinnamon Apple Spiced Tea (Indian black tea with cinnamon chips, apple bits, and other spices) while Jenny got the Rooibos Phoenix (red tea with caramel, honey, and vanilla).
My Cinnamon Apple Spiced Tea
Jenny and her Rooibos Tea
For the scones, we chose the pumpkin, buttermilk, and the raspberry chocolate chip (which came with clotted cream and raspberry jam). For the sandwiches, I chose the curried chicken salad and Jenny chose the black forest ham and gruyere. The cookies consisted of two sugar cookies and two soft chocolate chip cookies. For dessert we chose the mocha cake (since we chose the lemon tart last time).
As we were waiting for our order, Jenny and I exchanged gifts. She got me a nice purple plaid bow tie. I got her bubble bath salts, chocolates, a large versatile cup for food, and a candy cane.
As we were waiting for our food, I told her about plans and events for the next year. She shared her feedback and provided new ideas that I didn't think about. We also had our time to bond and reminisce about how much we've been through in the past decade. We ignited a lot of memories of former friends and our crazy adventures. One thing we talked about was no matter how long we've known each other, we never run out of things to say. There's always something interesting when the two of us get together!
The food came and everything looked delicious.
Crispy, Delicious Fries and Tea
It was very relaxing and the servers were friendly and attentive. Despite the place being very busy, they were very fast when handing things such as ketchup and filling up our water glasses. We were able to take our time when we were eating and it was satisfying. We looked out the window and saw that it was still raining hard. However from the inside, it was quite peaceful to watch the rain.
As we headed out we wished the staff a happy holiday. We then went to karaoke for a marathon. Our original plan was to have 3 hours of karaoke, but the kind lady told us that since it was a weekday, we could sing all we want for $12 each until 8 pm. She also told us that drinks and snacks were half priced. It was a good deal so we did the karaoke marathon special.
We got a pitcher of water because it was going to be a lot of singing and dancing. We sang a lot of favorites from ballads to upbeat pop music. Since that day was our only time to see each other, we also had our "dancing songs" to perform to. Whenever I chose a dancing song, Jenny would smile and say, "Oh time to dance" and I'd dim the lights while we sang.
We needed more energy because the food was kicking in so Jenny asked me if I could get her a coffee. I got a Long Island Iced Tea. Those two kept us energetic for the next hour and a half so we looked through the menu and got a Midori Sour to share.
We both enjoyed the Midori Sour since it had a nice melon flavor and wasn't too overpowering like some drinks. We continued the rest of our karaoke and sang a lot of songs from the 80's and 90's. We were also trying to figure out a one hit wonder from this one singer. It took us 20 minutes before were remembered who her name was. As I'm typing this, I forgot her name again!
After more than three and a half hours of singing and dancing, we headed to Bryant Park to see if there were any last minute gifts we could buy. As we walked, we took pictures in front of the Helmsley Building.
At the holiday shops in Bryant Park, we stopped by Sabon where they sold really nice soaps and lotions. As we stepped in, one of the attendants offered to give a free hand treatment. Jenny tried it and she loved the orange ginger smell. The attendant smiled and asked me if I wanted one too, but since I was carrying things, I smiled and politely declined.
There were a lot of nice fragrances and one of our favorites was the Lavender Apple. A lot of the products for the scent were sold out, but one of the other sales attendants said that we could mix and match to create a gift package. It turned out nicely. Jenny also picked up some unique soaps that smelled amazing. All in all, it was a good stop.
We then walked around to see if there was anything else we could find. We stopped near the tree to take pictures and this one woman offered to take our picture. She smiled and said that she had been doing that for people throughout the day and was glad to take one for us. The picture turned out beautifully and we thanked her.
We watched people ice skating. Jenny and I skated there seven years ago, and we had a story where someone fell and Jenny had to swerve out of the way or she would've tripped. It's always been a holiday tradition for us to always meet during the Christmas/New Year time. We'd do new activities and change things up a bit so that we can search for interesting new places to visit or things to do.
Jenny posing near the ice skating rink
A Final Pic before we head home
Jenny and I wanted to have a little snack before we headed home. She got a spicy German bratwurst and I took a bite out of it. It was good. I wanted pasta so we looked around for an Italian restaurant. We found a place that was near Times Square, but it wasn't too bad. Usually the places are crowded, but it was fine. I ordered a plain slice and a pepperoni calzone to bring home. Jenny and I talked for 10 minutes while I ate my pizza. We then hugged, parted ways, and wished each other a happy holiday.
So I remember from the previous entry that I wanted to discuss some things that I won't write about in the blog. It's pretty obvious especially when you take journalism ethics and First Amendment issues. I'm pretty open about discussing many things. One of the things I do is to respect people's privacy. I won't post something that people wouldn't want me to. Those of you who read the graduation entries that I wrote a few months ago know that my brother is very private so he didn't want his graduation pictures being posted.
As for me, I like to keep a fair balance. I love documenting memories and sharing photos with everyone. However, I do draw the line on some cases. With the advent of social media and greater access to the internet, it's a lot more difficult to maintain privacy. Back then we would see secret spies like James Bond have hidden cameras to photograph evidence, but now everyone has a camera on their phone or other handheld device.
But in the end it's about just being prudent. I remembered reading a lot of journal entries that I wrote when I was younger. I discussed a lot of my feelings and really delved into my personal life. With that being said, there are rules of etiquette that I adhere to (and have discussed with family, friends, and acquaintances).
Personal relationships and romance. I do not write about or discuss romance or personal relationships (for me or for others) unless there is mutual consent that gives a green light. With issues in divorce, separations, or general break ups, it can be a touchy subject. Imagine how awkward it is when you ask how everything is going with someone and their significant other and you figure out that they're no longer together. Unless a personal relationship has been established, I wouldn't dive into that territory. In regards to writing, I will keep these topics on a private level with family and close friends.
Political issues. Conversations on this topic can be charged and I respect people who come from many backgrounds. I've been in situations where a Democrat and a Republican had a heated debate on topics such as the presidential election. Since my research integrates medical law and ethics, I make an effort to be impartial and respect everyone's opinions. In general, I examine things on a case by case basis. It will be difficult to examine issues in an entry because other factors that might come into light later on may show another side of the topic.
Pretty much I think it's just those two that I won't write about on an entry. Every other topic is fair game for discussion. But I do think that in the end it's just about maintaining boundaries. It would be too much of a glimpse of my life if I write about everything, and that would just spoil the mystery when we actually meet!
As I said, I like discussing anything as long as it's respectful. That's how new bonds and friendships form, right?
Okay I published this entry on Dec. 31st and it's telling me that it's January 1st. What the heck is going here?! haha