It's the holiday season and it has been incredibly busy (when isn't it? haha).
I usually have my Christmas shopping completed by the end of November, but with the combination of continuing education, research, family and friends visiting, and getting work done, it has been quite busy. On the train I see people holding their shopping bags and other holiday items and it kept reminding me that I need to get it done or I will end up in a hectic war on Christmas Eve. It reminds me of the Halloween episode of Bob's Burgers where the kids got stuck in their clubhouse so they couldn't go out to do their planned trick-or-treating. Instead, they tried to recreate it by using things found laying around. The daughter who was giving the "candy" said, "Oh what nice costumes. Here's a used coffee filter for you." haha I don't want to have to give used coffee filters to my loved ones! But it's not that bad though since everyone usually just likes to go out and eat during the holiday season rather than receive material gifts. I do enjoy it a lot more since it's about sharing stories and enjoying each other's company with hot chocolate or wine and an abundance of food. I feel the same way as them since I don't really need anything. If I do want something, I usually get it myself during the other months of the year.
Nothing can replace the laughs and picture taking with those close to me. I know, pretty mushy, huh? :)
For my readers, you know that I usually take pictures of what I buy, but since these are gifts for others, I won't do it this time. I know family and friends read my entries so I don't want to spoil any surprises with people like my niece or nephew saying, "Yay Uncle Kevin got me an Ipad!" (Only if you get A's on your report card haha) But yes, one hand will be typing and editing on the laptop while the other hand wraps the gifts. Hopefully my multitasking skills will save me here :)
I went to the bank a week ago and spoke to the bank teller about the crazy weather. It hadn't snowed yet, but we were both joking that it's going to be a white Christmas. As I finished handling the financial things, she told me that I had a credit card offer and if I was interested in speaking to a representative about it. I told her no and that there were too many bills to pay this holiday season. We both started laughing and wished each other a nice day. Lo and behold, a few days later, there was snow falling down and covering the streets. It definitely caught me off guard so I had to shovel the snow in the evening. I do admit, it was pretty beautiful and calming. Some of the neighbors had their Christmas lights on while others opened the blinds on their windows to look out at the wintery scene.
The snow kept coming down though. I thought to myself, "Would all of this shoveling be futile?" Well after it snowed, it started raining and melted the snow so everything worked out in the end. haha But it also snowed a few days ago, and I almost slipped with my regular dress shoes. So on icy days I use my boots. It helped a lot so far. I haven't slipped or crashed into any garbage cans!
A few weeks ago, I met up with my brother at Sticky's Finger Joint near NYU. He was visiting the City so we decided to meet for dinner after I got some work done. He wanted to talk to me about starting a business and how he should plan it.
I ordered the crunchy Sticky's Classic New York Style Chicken Fingers with Jalapeño Mac Cheese dipping sauce. He got the Fire Flame Curry Fingers which are the Sticky's chicken fingers marinated in the hot fire flame curry and finished with a sprinkle of coconut glitter.
My Classic Fingers with Jalapeno Mac dip
crispy and delicious!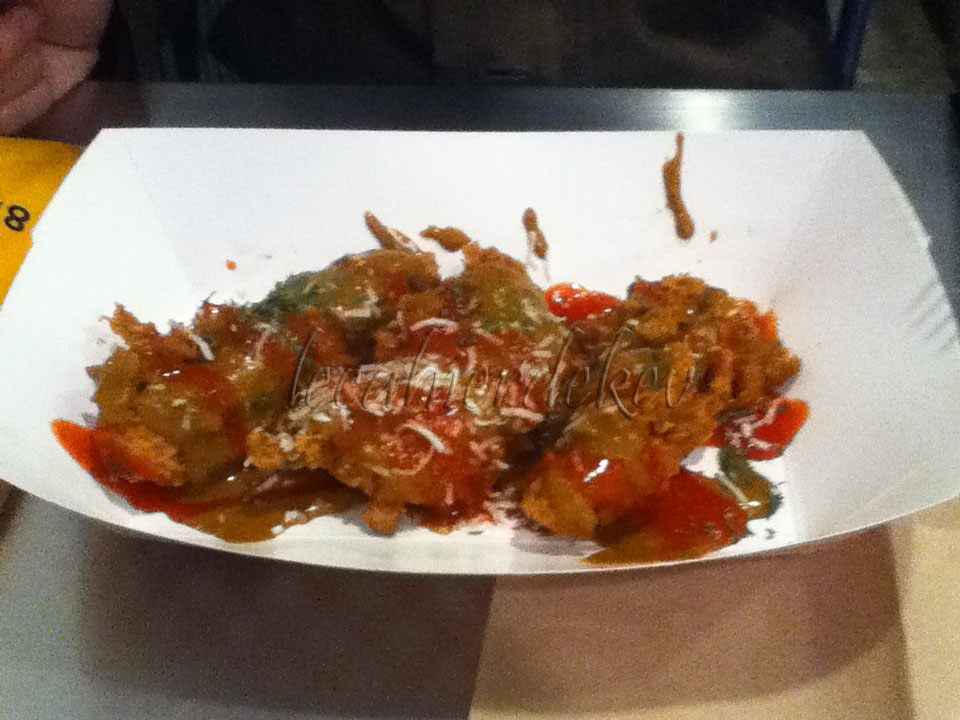 My brother's fire hot chicken fingers
nice blend of hot and sweet
My brother is very hands on and has good ideas. As an artist, he can envision something and translate it into a beautiful painting or sculpture. We focused on narrowing down what types of ideas he had, where he wants to have the location for the venue, where he plans on seeing the business going, and what products or services he plans on developing.
It was a very interesting discussion because it reminds me of students and clients I've worked with. Although people will study in one field, the possibilities are endless in how they want their careers to move. For example, lets take economics majors. Some people will become financial analysts while others will become professors studying international economic policies. It's a lot of thinking outside the box. How can you integrate your current skills to your projected career?
I joked with my brother that he wouldn't be interested in what I do (particularly the sciences). He laughed and agreed that he wouldn't touch organic chemistry or physiology. But we did highlight his creative acumen and continued brainstorming with ideas.
As we headed out, the worker at Sticky's waved and gave me a peace sign. I smiled, waved, and wished him a good night. I was exhausted so I wished him a good night at the train station. The large chicken fingers were filling so I just changed into my pajamas, continued my reading and writing, watched some shows, and got ready for bed.
So while I go rush and get some Christmas shopping done this weekend, I'll leave you with Selena Gomez's "Slow Down". Aside from the fact that it was filmed in Paris (*smile*), if many of you know about me during the holiday season, whenever I go holiday shopping I would listen to dance/club music on the drive to the mall/outlet/store. Usually I would sing and dance with whomever I'm with, be it my significant other or friend. It makes the drive less stressful and lightens the mood. Finding parking is usually the challenge. I can't tell you how many times I thought I "found" a parking spot, but when I pull up, I see a little mountain of snow on it. haha
As I was commuting home one night, there was a nice elderly man standing next to me while we waited for the bus. He dropped a dime and asked me if I can see it. We looked around and he finally found it. He joked that it was his "senior citizen bus fare" and he counts every penny now that he's retired. He said to me, "When I was younger, I didn't do that. I just bought whatever I wanted and didn't look back!" We both laughed and shared some more stories. He then mentioned how technologically advanced people are now. He said that his one year old granddaughter can navigate a touch phone and how his accountant son can type quickly on the computer without looking at the keyboard. It was such a fun conversation and he was just so warm and friendly. When I got off at my stop, I wished him a good night. It's always been amazing talking to people. I hear a lot of stories and just enjoy engaging people about random things from the weather to winning the lottery.
So I hope you enjoy the song and I want to wish all of you a happy holiday season. Regardless of what you celebrate, I wish the best for you and your loved ones! My next entry will most likely be toward the new year since it's pretty busy for the next week or so with Christmas and getting some research done. If it's not one thing, it's another, huh? :) There are also weddings and other events to attend after the new year so it's just one step at a time.
If you remember I highlighted a bit about health literacy in my previous entry, I'll discuss a medical ethics issue in the next entry. I'll also cover things that I won't write about along with journalism and privacy. Since it's going to be a celebratory mood in the next few days, I'll keep this entry more lighthearted.
Thanks again and wishing great blessings to you and your loved ones!