It has been a busy and productive few weeks, and I think an entry is long overdue! Expect a long entry with lots of pictures :) (Edit: I actually wrote the entire thing and included all of the details of current things going on. I decided to split it into two entries so that it won't be jumbled. Too many details will end up making it too long to read and focus!)
My family visited me earlier this month. A week before their arrival, I got really sick. I was bedridden with a strong migraine and very rough muscle aches that made me feel weak and exhausted. There were times when I'd feel nauseous, but I pushed myself to eat so that I'd recover faster. I was scared whether I was getting the flu with the changes in weather and everyone coughing when I traveled. I thought to myself, "Oh great, just when it'll get busy is when this will happen." lol Everything worked out though. I just took Tylenol, drank fluids, and ate my meals slowly.
My family came together on October 5th and it was such a blast! We all congregated at my parents' house to have dinner. My family was coming from Pennsylvania so it took them around 2 hours to get to Northern Jersey. They planned on arriving around 1 or 2 pm, but since they overslept, they arrived later (around 4 pm). I rushed to get ready when they were still on the way!
It was really nice seeing them though. We all exchanged our hugs and kisses. It was packed and I helped my mom set the food up. I was already starving since I spent the morning cooking and finishing up my dishes.
Everyone was exhausted when they arrived so we were still deciding whether to take them to New York that night or the next day. Looking back at it, I'm glad we went Saturday night since Sunday also became eventful. We all shared stories and laughed. My aunt asked me if everything was still the same in terms of what's been going on in my life. I told her yes and that there's a lot to plan for the next few years. My other aunt, uncle, and his brother visited also. The last time I saw them was in 2005. Almost 10 years! I asked how they were doing and how my cousins were doing. My uncle's brother introduced himself. He was a little shy, but ended up opening up to me more when we were on the train to New York.
After dinner, we divided the group into two. My brother took my cousins and my cousin's best friend to 9th street (the Japanese area in St. Mark's) while I had the out of towners and toured them around the touristy areas of New York. Since I use the Path Smartlink card and Pay Per Ride Metrocard, I rarely have to use the machine to refill both of them. I had to divide fares and get a Metrocard to get them into the turnstiles. We took pictures before we entered the Path train. It was fun being a tourist for a change! haha
Since it was the weekend, the 33rd Street train became 33rd Street/Hoboken which takes a little bit longer. During the ride, my uncle's brother asked me how expensive food was in New York. My other aunt asked me about commuting and my bag. My aunt from Pennsylvania (three aunts were with me--Pennsylvania aunt, West Coast aunt, and abroad aunt) asked me if I took AP U.S. History when I was in high school. I told her yes and that it was a little challenging. My teacher was a tough grader and we had a lot of pop quizzes. She told me that my cousin was having a little bit of trouble with the class. I told her that it was just a lot of reading and memorization. I was 15 or 16 when I took the class so factor in my teenage hormones and just wanting to have fun, it was a recipe for disaster!
When we arrived at 33rd street, they were in awe at the lights and experienced how crowded it was. The food stands were cooking shish kebabs and rice dishes and everyone started to get hungry again. I took them to the Empire State Building first since that was close to us. We took pictures in the lobby area and my aunts took pictures with the information booth man. haha A man who came from the Observation Deck told Pennsylvania aunt that it was foggy and no one could see anything from above. My aunt thanked him and was relieved that we wouldn't have spent money if we couldn't see anything.
Everyone arriving in Herald Square
As we were walking, we moved toward Times Square. On the way we saw Bryant Park and the New York Public Library. Everyone needed to use the bathroom so we made a pit stop at the park's restrooms. When I explained to them that the huge building was the Public Library, they decided to take pictures there. Everyone made goofy faces on the steps and West Coast aunt and I exchanged jokes which made her laugh uncontrollably for 5 minutes.
@ 42nd Street, my aunts making a heart in front of the New York Public Library
When we got to Times Square, it was packed! Very rare do I go to Times Square so I showed them where the New Year's Eve countdown usually takes place and showed them what streets are closed during that time. They loved the lights and advertisements. My uncle's brother asked me about Broadway shows and the Lion King. I told him which shows I watched and told them that if they were staying longer, I'd take them to some shows. We continued uptown and stopped by a souvenir shop and Superdry, a clothing store. Apparently my cousins love that brand. I didn't know about that brand until I asked my brother about it after his trip.
My three aunts in Times Square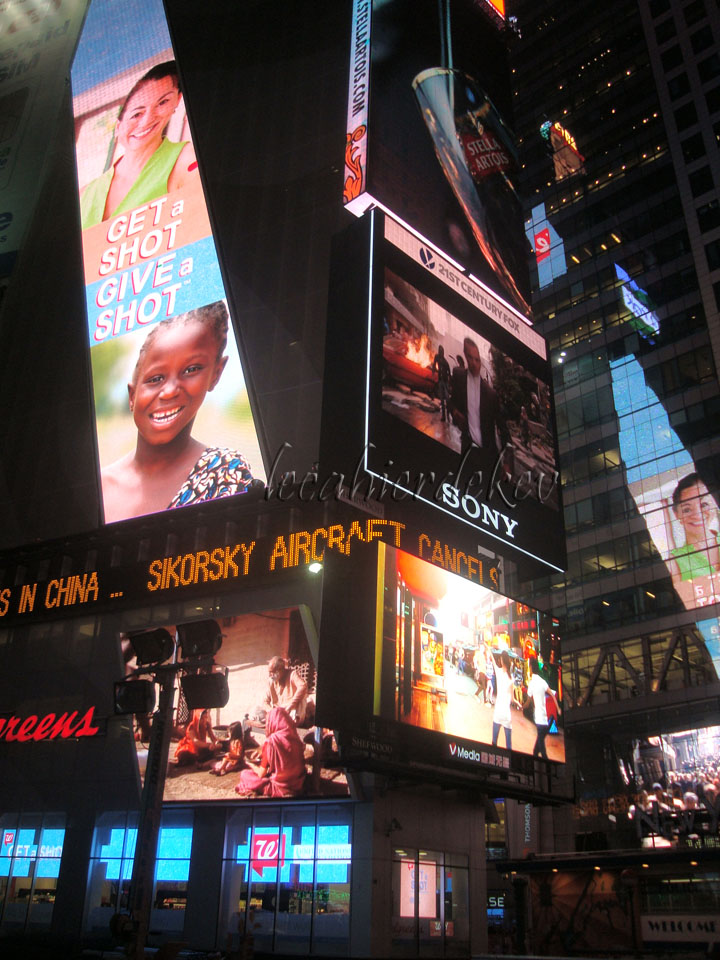 Times Square
Yay for being a tourist for the day!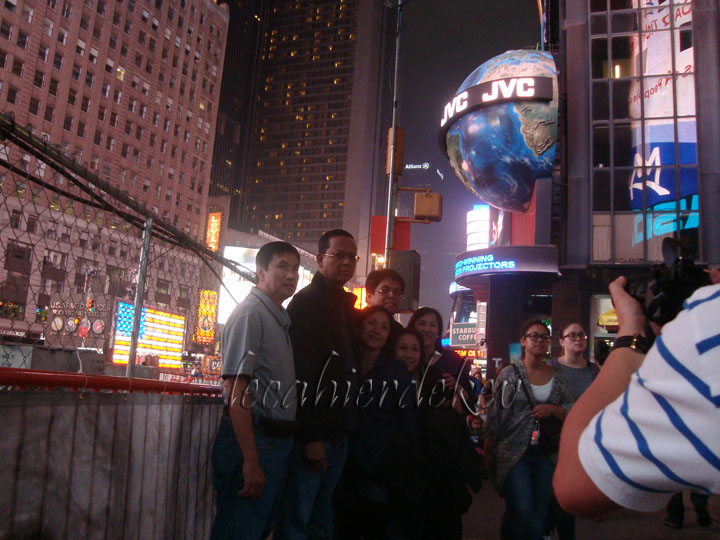 We looked around and my uncle's brother asked me if the prices were expensive. I told him that it depended on the brand and style. They had a sale where some items were $20 which wasn't bad for a sweater or light jacket. Continuing on was our final stop which was Rockefeller Center. I showed them Radio City Music Hall, the NBC Studio, the shops around Rockefeller, and the flags of different countries next to the skating rink. My aunt asked me if it looked different during the holiday season because of the ice skating and Christmas tree. I told her that it was very decorative and bustling during the holiday season.
It was getting late (around 10:30ish pm) for them and West Coast aunt was a little tired from her flight. She asked me if we could take the subway home because walking made her tired. We laughed and told her sure. We went down into the subway where it was warm. I gave her my fan to cool herself down with. Despite being a rushed tour, they all enjoyed it. I told them to come again for a longer period of time so that I could really take them around other places such as karaoke and restaurants.
I called my brother and asked him if they were all finished since our group was heading home. He said that they're still exploring around the area and they would return back to Jersey later. We headed back to my parents' house and had dinner. My mom watched my two cousins while they did their homework. We were all really hungry. I was heating up everyone's plates once they picked out what they wanted to eat and made some coffee for the others. We all sat in the living room and had our usually storytime and conversations.
West Coast aunt and I made jokes again and she ended up laughing hard similar to the library scene. My uncle laughed and said that no one could understand what we were joking about.
"I think they only understand each other," said my uncle while laughing.
It was nice. We used West Coast aunt's Ipad to Facetime with my cousin and his daughter back at their place. She was so adorable! She wore her new dress and danced around the room. She was always so sweet when I visited her. We'd dance around when she'd wake up in the morning.
Once it was time for bed, we were all coordinating on who would sleep where. West Coast aunt, her daughter, and my abroad aunt slept in my parents' bedroom. Pennsylvania aunt and her family slept on a portable bed in the living room. My uncle and his brother slept in the guest bedroom. I slept on one couch in the living room, my other cousin slept on the other couch. My brother slept in another bedroom with my cousin's best friend tagging along.
Everything surprisingly worked out. I told them that the next time they visit, they could sleep in my place and we laughed. My brother and his friends arrived around 1 am. As we were all in our pajamas already, they were getting ready also. My cousin wanted to go to Central Park and the Metropolitan Museum of Art the next day.
Next morning, we were all eating the leftovers for breakfast. My dad also cooked bacon and eggs for the group. I wanted to have some of the peach mango juice, but everyone ended up drinking all of it! Instead I turned to my good friend, iced coffee. My cousin bought breakfast outside and asked me if I wanted anything. I politely declined and started cleaning up.
We all got ready and Facetimed my grandma. She asked me when I was going to have children and I told her soon and laughed. We caught up on how things were going and when I'll come visit her. It might be in 2014 depending on scheduling and how things will move.
My brother and I took our cousins and my cousin's best friend to the train station. We got off at 14th street and walked toward the subway to head to the Metropolitan Museum. On the way, I was feeling a little tired from the night before so I asked if we could stop by for some coffee. The closest coffee place was Starbucks so we headed in and ordered our lattes/macchiatos. When we sat down my two cousins were asking me about having children and plans for the future (buying a house, relocating, etc.). We all shared our thoughts and shared the same sentiment to not rush things especially when having children.
After having our morning coffee, we headed out and arrived uptown near Central Park. My cousin wanted to visit it so we headed in. It was really nice and calm. People were walking their dogs and doing their morning exercises. I'm rarely in New York on Sundays so it was a pretty nice sight to not be stuffed during rush hour. haha
Cloudy, but calm Sunday morning in Central Park
At a bridge in Central Park with my cousin Jinn
Group picture
Jinn's best friend Jared, Me, Jinn, and my other cousin Fairlane
My cousin is also a fitness trainer so she did her running and jumping throughout the park. I took pictures on her phone while she did crazy stunts with her brother. People probably thought we were crazy tourists! Afterward we were walking around the park. It was big so we got a little lost and ended up on the west end when we needed to go to the east end. We did get a lot of good pictures though. We followed the map and saw the Metropolitan Museum of Art. There were a lot of people, but it wasn't too bad.
We only had a limited time since my cousins had to catch their flight home early next morning. Their airport was in Philadelphia so they all had to drive back to my Uncle and Aunt's house in Pennsylvania to get some rest. We decided to focus on the Asian Art since that's what they wanted to see.
We quickly navigated through the East Asian art section in order to cover art from areas such as Chinese, Japanese, Nepalese, and Himalayan art.
This was so peaceful to look at. If you saw the fountain in person, it would really touch you inside.

I loved the details of the calligraphy brushes, table, and paper. I've had friends take calligraphy classes and told me how important it was to be precise and gentle with the strokes. Not to mention they informed me that the professor was a very strict grader! It was beautiful and it reminded me of the classes that I took for my minor in Japanese Language and Culture. Can't deny that learning about your heritage is important :)
We also went through modern art when we figured out that we had a little time to explore. My cousin and I saw a glass sculpture of a reindeer. It was gorgeous and it somehow reminded me of the Christmas season.
After we explored the wing, we headed back to 33rd St. to take the train. We were all hungry and I was craving nachos so we went into the 7 Eleven. My brother got a sandwich, my cousins and the friend got hot dogs, and I got nachos (yes, I wanted to treat myself even if it's bad for me haha). After eating, we headed back to the train and got back to Jersey fairly quickly.
Everyone was getting ready to return to Pennsylvania since everyone's flights were there. We ate dinner, took final pictures, and gave our hugs and kisses. It was really nice despite only being two days. I told them that next time they can stay at my place and they can plan to stay longer so that we can tour them around more places in New York as well as New Jersey. It was really wonderful.
For some reason though, I feel like more family will give me a surprise visit in November or the holiday season. I already had to entertain family during the summer and the fall so I hope they'll at least wait until 2014 when I finish handling all of my things! haha
I'm also handling some things with the court to shorten my name. Those of you who know my full name know how unbelievably long it is. My best friend actually said it when we had dinner one time and we both started laughing. I was a little nervous about the impending bureaucratic process, but it surprisingly went by smoothly. Everyone has been extremely nice...the court clerks, the judge assigned to my case, and the newspaper's legal department.
Since I'm just shortening my name and not changing it to Kevin Brandon Freedom Egg McMuffin, the judge informed me that I don't have to attend a hearing and everything will be decided on the papers. Yay! I submitted the paperwork in September and I'm glad that it was reviewed faster than expected. I was afraid that I'd get a response in November or December for a date in 2014. I was like, "I won't have time to wait!" Last thing I want to do is give government agencies and human resources a headache at my 4 million character name when getting paperwork done. lol
I'm also acting as my own attorney so I'm taking care of the paperwork, making copies of everything, coordinating publication, and keeping in contact with the court. I also called all of registrar offices of my alma maters of what was required to update my transcripts and records. I shared a laugh with the woman in the registrar's office from my grad school. Since the school I graduated from also changed names twice since I was there, we laughed at how long the name is now. The newspaper also published my legal notice, and I cut the clipping from the newspaper as soon as I bought it when I woke up. I'm now just waiting for the affidavit from the newspaper so that I can send everything to the judge for Final Judgment. It actually takes some time to process so I'm getting things done as soon as I get paperwork back.
It's interesting because with family and in college, everyone preferred to call me Kevin whenever they'd see my name. When I was preparing my paperwork, it was a no brainer that I'd keep Kevin as my first name and use family names for my middle and last names. Once the affidavit is taken care of, I can just wait for the decision.
So a lot of those things have been keeping me busy for the past few weeks/month. I do want to tie up all of these loose ends because I know that I won't have time later on to handle these matters.
I was watching Home Alone a few days ago, and I saw the scene where the family came together to eat pizza. So Kevin and Buzz were fighting and it made the milk spill over the passports and plane tickets. I said to myself, "Who the hell puts all of the family's passports and tickets on the kitchen counter next to the drinks and food?!" I just started laughing at how crazy that was.
I'd probably yell at everyone to get all of their passports and tickets organized in their bags/purses/wallets before they can even look at a slice of pizza! haha
That's it for now. I saved a draft of more events that I will publish again in a few days. It's going to be Halloween in a week so it should be nice. It's also going to be a year since I moved everything to my site (lecahierdekev). Wow, look how quick that went.
Until my next entry, hope you all have a great day!