It has just been a crazy week with deadlines and handling daily housekeeping business. Before I begin, a few days ago was 12/12/12. I thought it was fun to know.
I've been listening to Shut Up and Let Me Go by the Ting Tings. It's really addicting and I recommend it. I first heard it a few years ago, and I instantly fell in love with the beat. From the beginning, the combination of the drums and guitar seems to hypnotize.
The Union Square Holiday Market has been pretty nice. Last week, I got a waffle from Wafels & Dinges. It was amazing! I got the liège wafle with spekuloos spread, Belgian chocolate fudge, whipped cream, and strawberries. It was quite decadent and balanced. The strawberries were tart enough to contrast with the sweetness of the fudge and spread.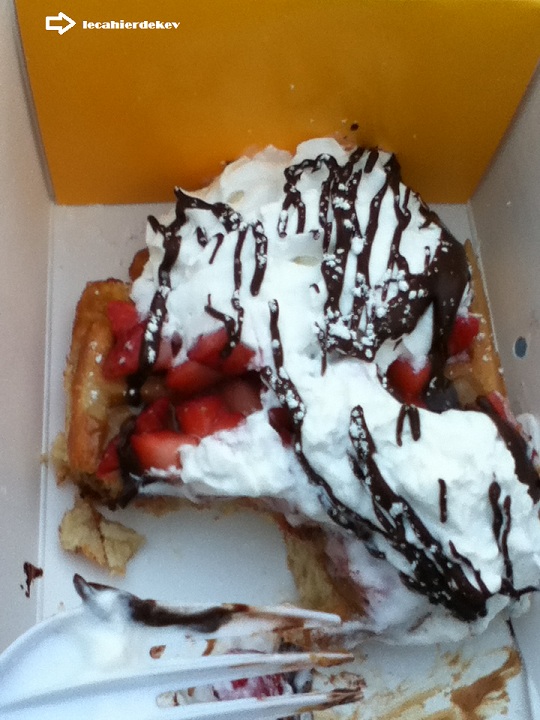 I took a couple of bites from it before I realized that I should've taken a picture first! It surprisingly had a light feel to it so I didn't feel heavy after finishing it. I know that feeling of being extremely stuffed. I've gone to buffets with friends and I always end up eating more because I want to get the bang for my buck. I've been more prudent now since I realized that I can't eat as much as when I was 18. I guess that's a good thing...since I won't be eating too much and explode haha
I just love the holiday season. When I was heading to the train station two days ago, my cousin texted me to tell me that she was sending me the video of me emceeing my younger cousin's 18th birthday party when I was in the West Coast. That was such a fun experience. I was happy that I didn't get nervous. Teaching, performing journalism work, and conducting therapy sessions really helped a lot. I learned a lot of techniques on how to be focused on the program agenda, ad libbing with the co-host and audience to make it more natural, and just to laugh at yourself. I can't wait to watch the video. It feels weird though when you watch yourself. I've spoken to my friend who's also a journalist and we both agreed that it's interesting seeing yourself on screen.
Speaking of "on screen" moments, I went to Rockefeller Center with my best friend. We headed downstairs to the Concourse to Jacques Torres Chocolate to sit down and chat. I got the Wicked Hot Chocolate with a shot of espresso. Let me tell you...that thing woke me up! The hot chocolate itself was very silky and not too sweet. It was just how I like it. The Wicked Hot Chocolate also had chipotle, cinnamon, allspice, and ancho chili peppers. I didn't ask for whipped cream because I like the bitterness of dark chocolate. To top it off, I also got a dark chocolate walnut brownie. It was delicious. The brownie wasn't too sweet and had a subtle chocolate taste that didn't overpower the palette. It complemented the richness of the hot chocolate.
I loved being around the NBC studio. News and entertainment provide outlets for me to explore points of interest and ideas to pursue. Did any of you ever get a feeling when you enter a place that just elicits a warm emotion? I'm sure many of you get that feeling where you visit a place that you enjoy or interests you. It could be Disneyworld, a supermarket that you've always shopped at ever since you were a child, or an airport (if you like to travel).
I got that feeling when I was walking around Rockefeller Center. I love being in diverse environments where I interact with people who come from different fields. I conducted an entertainment interview on social media and fame just recently. I learned so much and had fun. You make new friends and contacts in the process. I'll post the video after I do the editing this weekend.
I hope all of you are enjoying the holiday season! I'm pretty excited for the upcoming new year. There are so many new things going on, and I'd love to see how things pan out.