New York Comic Con 2015
Javits Center
New York, NY
I wanted to devote a special individual entry on Comic Con here on LCDK. Originally I was contemplating on whether to combine it with the regular monthly entry, but I saw that both the Comic Con experience and the regular monthly entry for October were packed with a lot of pictures and information to combine into one entry. For this entry I will use bigger pictures for the most part rather than condensing them into my usual collage format. This is so that all of you can get immersed in what New York Comic Con is like.
This was my first time at New York Comic Con (NYCC) so I didn't know what to expect. I previously saw panels, events, and pictures in the press, but I knew that physically being there would be a whole new story. I've heard stories of tickets for popular days and the 3-/4- day passes selling out within minutes. Tickets are usually sold in the spring and the event is held in October. For 2015, the tickets were sold beginning in May.
My brother and his friends are veterans of New York Comic Con so they know the process better than me. During mid-summer my brother invited me to Comic Con. It was a nice surprise and I appreciated it. I don't think I would've been able to go if it wasn't for him (from hearing all of the stories of the ticketing process being competitive)! haha He told me that he will give me a Friday pass for October 9, 2015. He had the 4-Day Pass so he would be able to attend the entire time.
New York Comic Con does not usually announce main guests and panels until it's close to the event time (usually they will announce it around August-September). I'm guessing it's because schedules change for many artists and actors/actresses so things can be solidified when it's closer to October. When my brother invited me during the summer, I didn't know which artists and celebrities would attend the Friday when I would be at Comic Con.
Fast forward to September 2015, my brother texted me asking me if I was ready for the big event in October. He gave me a few instructions before attending such as activating the badge, bringing snacks and water, wearing comfortable shoes, and checking the NYCC site to plan out what I wanted to do for the day. When I met up with him for lunch one day, he gave me my physical badge and a lanyard.
My NYCC 2015 Friday badge
Before the event, I checked out which panels I would sit in on. I was excited to see that there was an Adventure Time panel. As many of you know from reading my past entries, I am a big fan of Rebecca Sugar and her work on Steven Universe. There was also a panel on Surrealism and Pop Art that I planned to attend. When I was an undergraduate, I minored in Japanese language and culture. It brought back a lot of memories when I took the East Asian art classes and doing a presentation on Takashi Murakami and other Japanese pop artists.
It seemed a little bit overwhelming since I only had one day to take in the experience of NYCC. However, in the end I just decided to go with the flow and enjoy the day (with the two panels: Adventure Time and the Pop Art being the only ones set in stone).
On Friday morning, I met up with my brother and his friends at 34th Street. Prior to the event, I told my brother that I planned on attending the Adventure Time panel to see the executive producer and cast of Adventure Time. I originally planned on going by myself since I didn't want to impose on his schedule. I asked him if he would like to join me. He agreed and said that it would be nice to experience it. His friends had plans to go wait at another panel at Javits, but decided to attend the beginning of the Adventure Time panel.
The Adventure Time panel took place at the Hammerstein Ballroom. I checked NYCC's Twitter page on my phone to verify the time and location.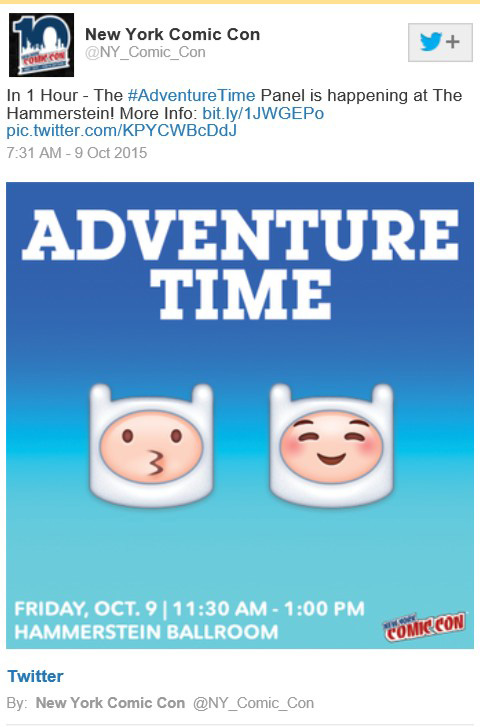 Adventure Time Panel Tweet
Courtesy of New York Comic Con
I thought that it was better that NYCC moved some events into areas outside of Javits since it probably would've been insanely crowded had they not done this. As we walked down West 34th Street we saw groups of people lined up. We didn't know if they were waiting for the panel so we asked and confirmed. We got there at around 10:45 AM and the wait wasn't too bad. People were eating their breakfast sandwiches, talking, reading, and pumping themselves up.
The line started moving at 11:20 AM. Hammerstein was spacious with plenty of seating. Everyone was settling in and finding their preferred seat. Security and staff were guiding people around and making sure that each seat got occupied. We sat down and Cartoon Network provided the audience with little sword giveaways.
Everyone entering Hammerstein Ballroom and settling in
Adventure Time Sword Giveaway
I had this huge smile on my face since I was about to experience my first panel. I was also going to see the talented voice actors and the producer in person. I snapped another picture of the panel stage as everyone prepared to begin:
Panel Stage at Hammerstein Ballroom
The moderator for the panel was the talented voice actor Eric Bauza. He voiced characters on many shows including Teenage Mutant Ninja Turtles and Uncle Grandpa. He began with his voice of Belly Bag on Uncle Grandpa which made us laugh. The panel was nice. Eric introduced everyone starting with the executive producer Adam Muto. Adam discussed the main story for the upcoming season. The discussion between Eric and Adam led to the advanced screening of three future episodes of Adventure Time which are set to release in November. Everyone cheered when Eric asked the audience, "So, do you want to see some episodes?" haha
The episodes were projected on to the large screen (in the above picture that has New York Comic Con over the skyline). The last two episodes they showed were going to be part of an 8 episode arc focusing on the character Marceline. It had a deeper story which was really nice. I don't want to spoil it here. haha They are going to be premiered in a few weeks anyway!
Eric introduced the cast after the first episode showed.
Left to Right:
Eric Bauza, Adam Muto, John DiMaggio, Jeremy Shada, Niki Yang, and Olivia Olson
They were all charming and warm. You could tell that they all had great chemistry. Niki discussed the story behind Lady Rainicorn's lines. In the show, Lady Rainicorn speaks Korean so when she asked the supervisors, "Are there going to be subtitles for her?" They replied, "Nah, it's fine" and we all laughed. Niki said that it was easier for her to do Lady's lines since it was just her speaking Korean naturally.
After the panel discussion, Eric introduced Rebecca Sugar by stating, "If you all noticed, there's an extra seat next to Olivia." Once he called out her name and Rebecca walked on stage, everyone screamed and cheered. Rebecca spoke about her work and ideas from Adventure Time. She then sang "Everything Stays," a song that will be featured on a future episode of Adventure Time. If you check her out on Youtube, you can see her amazing singing ability. It was so nice to hear her sing in person and she was an absolute sweetheart to everyone (the cast and the audience) during the panel.
Rebecca Sugar at the far right (next to the staff member in black)
Rebecca Sugar singing "Everything Stays"
After the producer and cast spoke, they had a Question and Answer session where they gave away free DVDs to those who got up to ask. John DiMaggio (who is the voice of Jake the Dog and voiced other known characters such as Bender on Futurama) was hilarious. He was sarcastic and rolled with the punches when people asked tough questions. He also sang the Bacon Pancakes song after someone requested it (you can find it online, I wasn't fast enough to record it haha). He made a joke about sausage waffles with the cast before singing the song.
Olivia's character in the show sang a song about her father eating her fries. Someone asked her if a situation similar to that happened to her in real life. She told us a story where she made a birthday cake for her friend and put it in the fridge. Her father ate a slice of the cake even though it was labeled for her friend. Olivia had to then cut the cake where it was sliced and refrost it because of that. She then said, "That was when I decided to move out of the house!" John DiMaggio then rolled with it and said, "I think your dad did that on purpose to get you to move out" and then laughed. Jeremy told everyone how crazy it was when everyone did the Lumpy Space Princess voice for one episode. He started mimicking it which made us all laugh.
All in all the panel was incredibly fun. The audience was engaging and the panel had amazing chemistry. Eric discussed a line that he had to say in Japanese for Teenage Mutant Ninja Turtles and he said that the supervisors said that it sounded Italian. When he actually said the line, John replied, "That doesn't sound Italian!" We all had a great time and the hour and a half flew by quickly.
As Eric concluded the panel, everyone clapped. Some people went up to take pictures while the rest exited to return to Javits. My brother's friends left earlier in the middle of the Adventure Time panel to attend a panel at 12:15 PM. My brother and I headed down to the Javits Center. The closer we got, we saw huge groups of people--costumed and uncostumed. It was a sight to behold. The weather was nice, but the forecast stated that it would rain for a bit (luckily I was inside Javits at the time).
The Javits Center is huge! It's all the way at the West Side so it took a bit of walking to get there. You could feel the energy and excitement of the people.
We followed the signs and instructions on where to enter. As soon as we entered, you could see all of the decorations and monitors. I love taking pictures so I felt like a kid in a candy store! haha
Entrance at Javits Center for NYCC 2015
Another view of the Entrance
The check in process wasn't too bad. I think it was already 1:45ish when we arrived at the Javits Center so we didn't have to wait. Everything worked out perfectly in terms of scheduling for me since the Adventure Time panel took place late morning and I had the afternoon and evening to enjoy myself. The NYCC crew member tapped my badge with the handheld tablet so that I could enter.
At this time, my brother and I parted ways. I thanked him for giving me an opportunity to attend Comic Con. He had his own schedule and plans to attend to (as well as meet up with his friends). He asked me what my plans would be and what other panels I would be attending. I told him that I would attend the Pop Surrealism Art panel and look around the booths and take pictures. He smiled and wished me a good time. I gave him a hug and we went in two different directions.
As soon as I headed in, I was greeted by the Jurassic World sign and groups of people. I already knew what to expect with attendance for NYCC growing larger and larger each year. There were press crews recording and photographing the scene, people were looking around, and I was just taking it all in.
At that point, I headed down to check out the café and locations of the conference rooms for the panels. I was also really hungry and needed to eat my lunch. Luckily, I brought a spicy chicken sandwich that I bought beforehand. I saw an outside eating area earlier when my brother and I headed to Javits, so I planned to sit and eat there. It was sunny, and I enjoy being near the sunlight. I moved through the crowd to get to the area outside. One thing I noticed is that despite being crowded, everyone was incredibly polite. People would say excuse me or I'm sorry if they accidentally bumped into you, and people were patient. It was nice and coming to NYCC felt like a vacation.
I found a spot outside (and it was the perfect spot which you will read about soon) and put my bag down. My legs didn't hurt yet (but they sure did as soon as I headed home that night haha), so I took out my sandwich and my water.
Outdoor area at the Javits Center
Outdoor Area
(People were waiting in line for hot dogs)
As I ate my lunch, I looked through the panels and other information for the day. I wanted to see if there were other panels I could attend. It was my time to relax since I would be walking around and exploring for the rest of the day. There were people photographing those who were cosplaying (wearing costumes) characters. As I got up to head back inside, I saw people turning their heads and pulling out their phones. It was someone in the Iron Man Hulkbuster armor and the Hulk next to him. They were surrounded by NYCC security and crew members. On the day I attended, Marvel had two panels at the Main Stage so I'm guessing there were a lot of promotional and press work being done.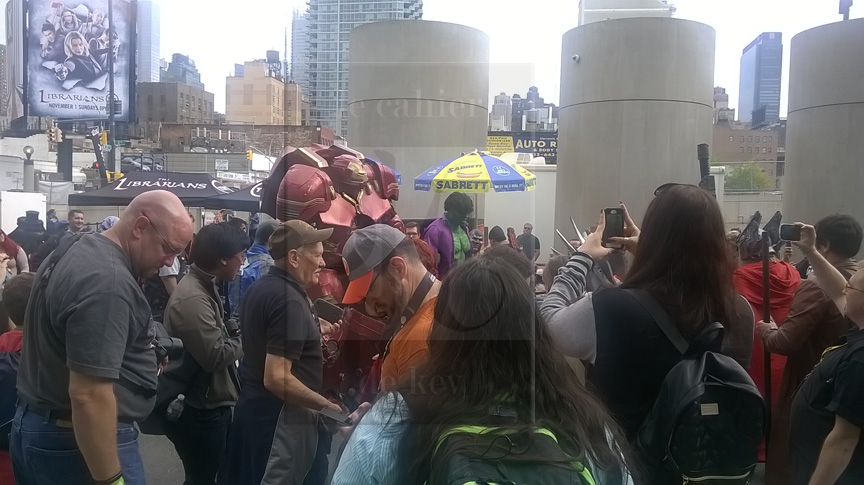 Iron Man in Hulkbuster Armor and the Hulk
They were very friendly and posed for everyone. After a bit, Iron Man said, "It was nice seeing you all, but it's hot so I have to get to somewhere cool now." We all laughed and Iron Man and the Hulk waved goodbye to us.
I headed back inside and went up the escalator to check out the exhibitor's booths.
There were a lot of booths to visit. I didn't have anything in mind to purchase so my plan was to just look around. When I got upstairs, the first thing that came into my mind was "which direction should I move!?" There was always something interesting to see.
Entering the Show Floor to see the Exhibitors' Booths
I decided to move to the right and make my way around counterclockwise. The following will be pictures that I took while walking around. From walking around, I liked that there was always something for everyone. NYCC had diverse booths, artists, and panels that everyone found something that interested them.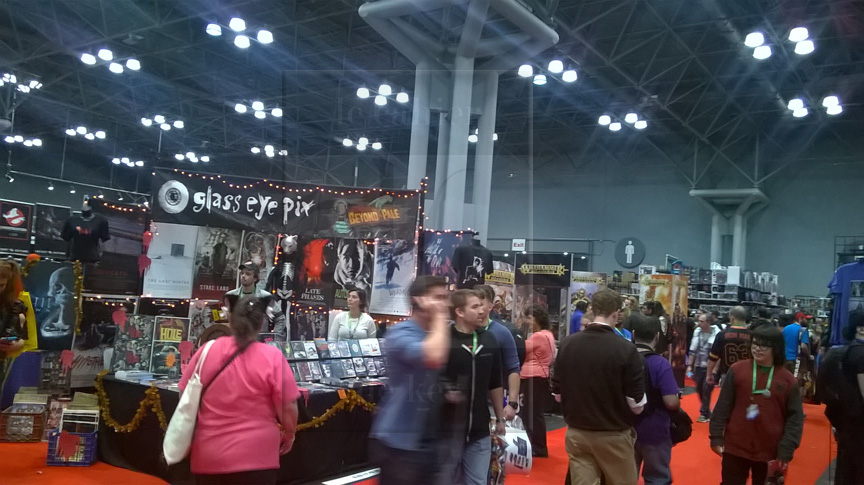 Glass Eye Pix Inc.'s booth
Posters, Toys, and Wigs
Including Pokemon, Sailor Moon, and Tales games
Tall Pumpkin Figure
Happy Halloween!
Figures of Nintendo characters
Including Link, Super Mario, and Yoshi
Bandai Namco's booth
Sailor Moon was playing on the TV monitor
Various figures were on display in the glass case
Sailor Moon Figures @ the Bandai Namco booth
(L-R) Sailor Moon, Sailor Uranus, Sailor Neptune
(Left) Mobile Suit Gundam: Iron Blooded Orphans Poster
(Right) Super Mario!
Cosplayer as Kakashi from the anime Naruto posing for us
We all loved the use of the smoke from the Jurassic World exhibit haha
The Hobbit Display
Very nice and loved the detail
tokidoki's booth
I'm always a fan of this style :)
Various character designs
Including characters from Star Wars, Batman, and Spiderman
Taking a break at the outside area
There were so many things to see at the Showroom! I went outside to the general floor area to take a short break. Look at the line at the Starbucks! It was amazing (even though I only covered less than half of what NYCC had to offer). As I was looking through the NYCC book, a nice man in cosplay asked me where Artist Alley was. I knew it was at Level 2, but didn't know which direction. I apologized and told him that I only knew that it was in Level 2. He smiled and said thank you. Like I said before, it was nice to see people be polite. I walked around and saw a large balloon display of We Bare Bears. I thought it looked so precious.
We Bare Bears
Grizz, Panda, and Ice Bear
After my break I headed back to the Show Room to check out the other side. I still had to visit Artist Alley before waiting for my Pop Surrealism panel at 6:30 PM.
Another display from Chevy
A display of Ninja Slayer
People dancing Macarena on Just Dance
As I was watching the people dance the Macarena, a man came over and asked me what it was. I told him that they were dancing to a video game, Just Dance. I still have my Just Dance games and I remembered breaking a sweat to them a few years ago! I also noticed that I was at the NYCC Livestream Village where they had the cameras and media coverage.
The NYCC Livestream Village
Presented by Twitch and Courtyard by Mariott
People were sitting down and relaxing. The monitors were live streaming NYCC online.
Left of the NYCC Livestream Village
Very busy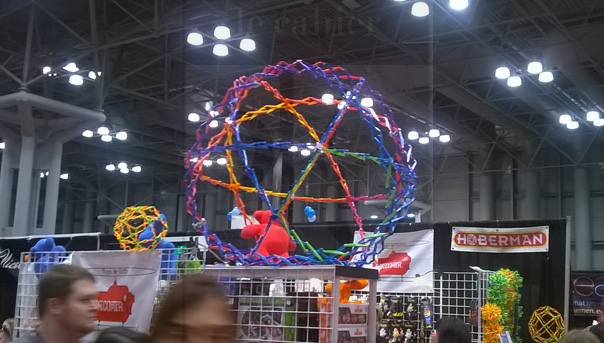 Colorful toys and displays at a booth
Display for a video game
Phantom of the Kill

As many of you know, people put in hard work to design and create costumes for Comic Con. Of course, it wouldn't be an experience without taking a picture with a cosplayer. His costume looked like he just came out of a video game. I know a lot people devote time and energy to perfect their outfits so kudos to all of you cosplayers out there! :)
Me with cosplayer
I was astounded at the detail of his costume
He was a great sport
The next display in the showroom gave me such a big smile. Those of you already know my love for math and science (as evidenced on my site!). It was no surprise that I had to take a picture of these plush organs.
Plush toy organs!
Very cute :)
Front angle of the plush organs

It was getting late and my brother texted me asking me if I visited Artist Alley yet. At that point the sun was starting to set and I still had to head to my final panel for the day. I told him that I was going to check it out on my way to the panel. I also looked around to make any last minute purchases as my souvenir for NYCC 2015.
View of Javits as night approached
I checked out Artist Alley and was pretty excited that I was going to see some artists at the Pop Surrealism panel. I looked at the artwork, designs, jewelry, and other trinkets that these artists made. Unfortunately, I absentmindedly forgot to take pictures due to the time crunch. Now I know why my brother said that you'll need more than a day to be able to take in everything!
A few of my souvenirs from NYCC 2015
Comic books, post cards, and artists' business cards
At that point my legs were exhausted. Even with my comfortable boots I knew that I needed to take a break. I walked to the other side to head to the B rooms for my Pop Surrealism panel. On my way, I snapped a final picture of the floor of the Jurassic World display. The men were dressed up as the guides you would see in the movies.
Jurassic World Exhibit
with the famous raptor
It was really nice and everyone seemed to enjoy it. After taking the Jurassic World picture, I went to the B wing to wait for my panel. I was just sitting down and reading the NYCC book.
Pop Surrealism Panel
Courtesy of NYCC 2015
It didn't take long before the NYCC crew ushered us into the room. I was pretty excited since this brought back memories of the art courses I took when I was an undergrad.
Inside the Pop Surrealism panel
The panel was moderated by Carlo McCormick. Carlo is a culture writer and curator in New York City. I loved his laid back demeanor and wit throughout the panel. During the panel, the artists' work was projected onto the screen while they discussed their background and styles. The panel was composed of artists (Camilla, Tara, Travis, and Mab) and a gallery owner (Jonathan LeVine). If you check out their sites (I will put links after I discuss the panel), you can see their bio and artwork.
A few topics that was part of the discussion included how they started their work, their influences in their work, their background and styles, and types of artwork that they did not work on. Tara McPherson started as an astrophysics major before venturing into art. Mab Graves discussed her work focusing on innocence and its childlike qualities. Jonathan LeVine discussed being surrounded by art through music and his gallery.
One of my favorite art pieces came from Camilla d'Errico's "Rainbuns." Who doesn't love colorful bunnies? For Tara, it was "Secrets of the Polar Aurora." There was a mystical quality to it and the blue color was hypnotizing. Alice in Wonderland is a favorite childhood story of mine and that's what caught my attention from Mab's work. Travis Louie's work focused on its Victorian quality and I loved how he was able to meld that style with mythical qualities seen in folklore. I was pretty excited when Jonathan discussed his gallery and featured artists. That will definitely be my next stop to visit soon.
Panel concluding and going up to the artists
Here are their sites if you want to go check them out:
That concluded my day at New York Comic Con 2015. I had such a great time and the experience did not disappoint at all! As I was heading home, I sent my brother a text to thank him for inviting me to NYCC. He was happy to hear that and told me that he was still attending panels for the evening. I wished him a good night and a safe trip home. Overall it was a very unique and fun experience. In one day, I got to see the cast of Adventure Time in person, meet artists, see a variety of displays and exhibits, and basically get immersed in the NYCC experience.
I didn't know what to expect and thought that the crowds would be too much, but it ended up not being too bad. I was still able to take a variety of pictures and look around. When I spoke to my brother, he asked me if I was going to cosplay if I went to NYCC again in the future. When I thought about it I didn't know which character I would cosplay as. The designing wouldn't be too bad from what I learned in menswear and designing/tailoring. But making a costume would definitely be a new experience! haha It's one thing to create a dress shirt, but another to make an elaborate costume. I can't picture myself as any specific character at the moment. Oh well, we shall see how things go later on!
It did feel like an early Halloween and there was nothing better than seeing people of all ages and backgrounds have fun. I think that's one thing I liked that most about NYCC--everyone was able to be who they wanted to be without any judgment. In terms of the environment, I was able to get immersed in art and pop culture for one day. It really did feel like an adventure infused with a mix of Eastern and Western pop culture.
Leaving Javits Center
It rained, but good thing I wasn't outside for that!
Goodbye New York Comic Con and thanks again for the exciting day! Thanks again to my brother and everyone at New York Comic Con. If I do get another chance to visit New York Comic Con in the future, I'll know that I'll need more than one day. And yes, I did crash after I ate a small dinner when I got home. :)