We can actually feel the warmer weather now! I verified that my continuing education was completed for this cycle and I took care of my taxes. They weren't too bad (thank goodness!), but I'm just happy that all of that was off my plate as summer rolls along. I have a lot of great things to share with all of you in this entry to ring in the springtime.
With the nicer weather, everyone is going outdoors to get some fresh air or look at the sights. I went to the Japanese supermarket, Mitsuwa in Edgewater, New Jersey. I remembered showing the outdoor scenery from the supermarket during the Independence Day entry. I had to also go food shopping so I wanted to show you my trip to the supermarket. Of course, you'll see a lot of bright and vibrant products in a Japanese supermarket!
When you go into Mitsuwa, one of the signature things you will see is the food court. There are a lot of places to order food and the pictures are visually appealing. There are a lot of choices whether you want ramen, Chinese inspired dishes, ice cream, bubble tea, curry, or rice bowls (to name a few).
As you can see, Mitsuwa is a favorite place to go to for many people. The place is very busy and crowded during festivals, holidays, and the weekends. I prefer to go during a weekday since it's not as packed. However, I went on a Saturday so it was quite busy! It's really a fun place to go to when the weather is nice. The outdoor area overlooking New York City is calming. It's especially a sight to behold during the night when you can see the lights from across the river.
Rice Dishes and Bowls
There are also vegetable croquettes. Very tasty!
The selections are good and some places also have a takeout option if you want to order something and eat it at home. The picture above with the rice dishes and croquettes is where I usually order. The food is good, and I especially love the pickled vegetables and miso soup that come with my order. For the amount of food you get, it's pretty affordable. A whole tray of food would be around 7 dollars for the cheapest option. The bowls are cheaper which are 5-6 dollars. The more involved dishes are around 8-10 dollars, but you do get a big meal out of it. The food court seating area overlooks the coastline which does add to the ambiance. You can see pictures of the outdoor area from my August 2015 entry. I usually meet up and have dinner with family and friends here so it has always been a memorable experience.
The area around the food court has displays with manga books, toys, and other anime related goods. There are also products advertising the goods you can find in the stores nearby. For example, Kinokuniya bookstore is right next to Mitsuwa.
Assortment of Books
Hello Kitty Lego on the bottom left
This area also has free Japanese newspapers and the Chopsticks magazine which you can take home and read. You can also look at the displays while you wait for your food to be prepared.
Kinokuniya Display
I especially liked the cat with the birthday cupcake!
After I ate my meal, I headed to the market to do some shopping. There are a lot of colorful and unique products here that you won't find in a standard supermarket.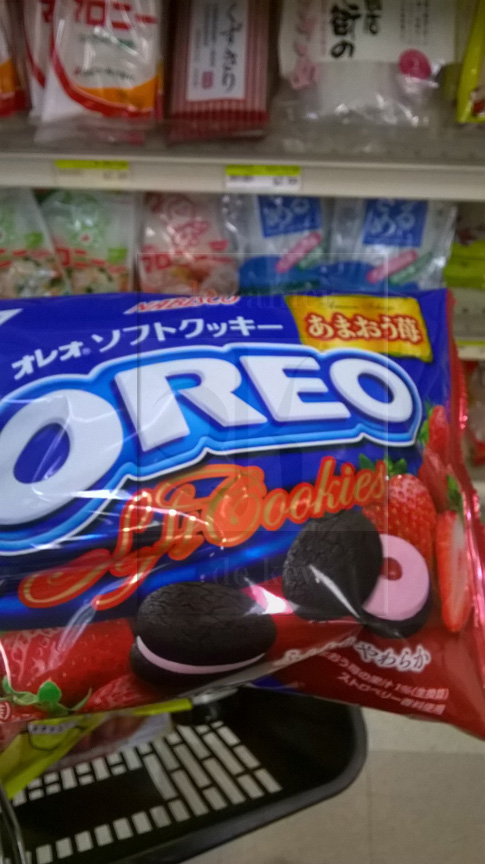 I saw these strawberry creme Oreos and this was the first time I have seen this. Maybe some of you have seen it in your areas, but I was surprised when I saw this. It looked tasty, but I didn't know if I would've liked it. haha There have been times where I will see something that looks appealing on the cover, but when I eat it, they are not what I expected. I just thought it was nice so I kept a note of it in case I decide to buy it in the future.
Of course, instead of the usual animal cookies/crackers, the Japanese spin on them are cute anime versions of these animals. They were very colorful and vibrant, and I know that if I brought along my nephews and nieces, they definitely would've wanted me to buy them!
Assortment of Bottled Drinks
I like the selection of bottled drinks at Mitsuwa. They usually go on sale, but they have a great assortment such as the veggie juices, coffees, teas, and other fruit juices. Years ago I would buy the milk coffee that they have. It was portable and really woke me up when I had to get work done. This time I bought the tea lattes at the top of the picture. There were three types: matcha, chai, and black tea. I've tried all of them and they were delicious and refreshing. It's easy to pack when I have to eat lunch or go out which makes them convenient if you're on the go.
There are also ready made/premade sushi, onigiri, bento boxes, and cooked food that you can pick out for dinner. By the time I got there, it was pretty much emptied out. Since it was a weekend, a lot of people get those for a quick lunch or dinner. I did get a few things such as the potato curry croquette (the last one!), seaweed salad, and chicken teriyaki.
(Top left) Premade food section
(Bottom left) Tanuki Sake
(Right) Meat and poultry section
I did pass other sections such as the meat section, but I didn't need any meats. I did like the Sake selection. I laughed when I saw the sake packaged in the carton. It reminded me of the boxed wine I saw at a few parties.
There are frozen items such as dumplings in case you need something that you can just heat up to eat. I've had the crab and vegetable dumplings which were tasty as a side dish. So there are a selection of things you can buy there. Some items are pricey like the Kobe beef or high end sake, but otherwise it's pretty affordable. They have sales often so you can use that to your advantage.
In terms of cooking, I made a Filipino-Chinese inspired soup called Lomi. I know I didn't get to discuss cooking in the past few entries, but don't worry I have one here! The dish was simple to make and very comforting to eat on a cold night. I wanted to experiment so I used Udon noodles instead of Hokkien noodles. I added a lot of vegetables including romaine lettuce, carrots, and snow peas. I wanted it to be hearty, so I also added fish balls along with the chicken.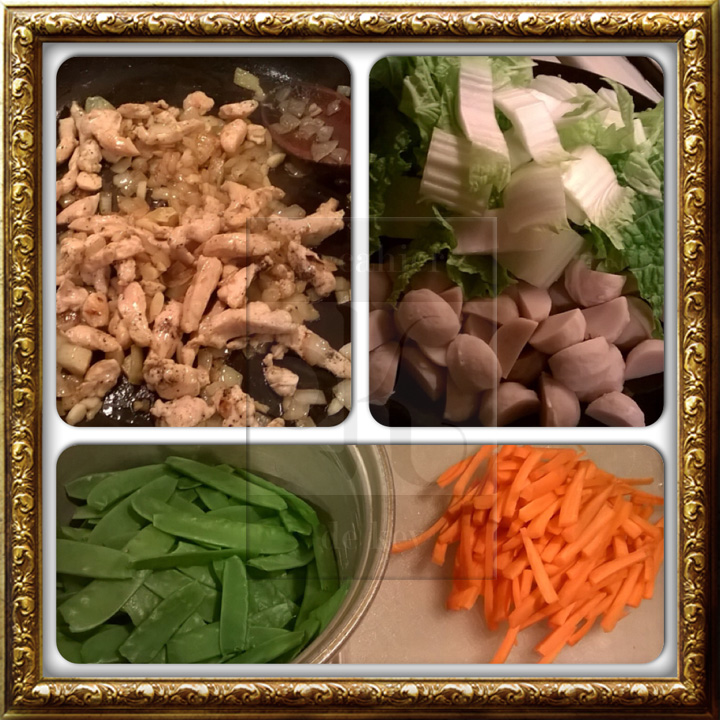 (Top Left) Sauteeing the chicken in onions and garlic
(Top Right) Chopped romaine lettuce and fish balls
(Bottom) Snow peas and carrots
I chopped the chicken breasts into strips and sauteed them with the chopped onions and garlic. I didn't saute the chicken too long since it was going to also cook when I added it to the soup. I seasoned the chicken with a bit of pepper and some chicken stock. Meanwhile, in a large pot I boiled 1000 milliliters (around 4 cups) of low sodium chicken stock. There's a reason I didn't add salt, and I will explain it further into this entry. Once it started boiling, I tossed in the carrots so that it would soften. Carrots take a bit of time to soften and I wanted all of the elements of the soup to be soft. After five minutes, I put in the udon noodles. I then added the sauteed chicken, onions, and garlic together with the fish balls. At that point, I could smell the combination of the broth with the chicken and carrots.
Counterclockwise from the bottom left
Adding each ingredient step by step
There was a tip that my mom and other family friends told me when making this soup. They said to put crab and corn soup towards the end to give it a boost of flavor. This is why I didn't add salt. The salt would come from the crab and corn soup mixture. I cooked the crab and corn soup in a separate pot. Instead of one egg, I put in two since it was going to go into the large pot of soup.
I continued letting it boil and added a pinch of onion and garlic powder to enhance the flavor. After 15 minutes, I added the crab and corn soup. At that point I was getting really hungry! haha I stirred the soup to incorporate the crab and corn soup with the broth. Since it was close to finishing up, I added the lettuce and snow peas. I really loved the color that the vegetables gave to the soup. After letting it boil for a few minutes, I put it in a bowl to enjoy.
The Lomi soup in a bowl
Topped with Kikiam and scallions
After it putting it in the bowl, I added Kikiam (a Chinese-Filipino sausage dish), fried garlic, and scallions and then mixed it all together. It was very tasty! As for the kikiam, you can find it in the frozen section of the Asian aisle or you can go to an Asian supermarket. The one I had was freshly cooked since there are a lot of Filipino restaurants around my area. I just bought it and cut it up. Kudos to the Filipinos and Chinese for their delicious dishes! This one was very satisfying and really hit the right spot to quell my hunger.
As I was cleaning up a few boxes that had items which I forgot to organize, I saw two things that brought back a lot of memories. It was a penguin toy that my little cousin gave me and a Super Mario custom made lollipop. My favorite animal is a penguin. As many of my family, friends, and clients know, I have two versions of my stationery. One is the professional version with my logo and the second is the casual version with a customized version of Bad Badtz-Maru (the Sanrio Penguin) dressed up as a scientist/professor.
My cousin gave it to me when she was very young. She was around 3-4 years old. She gave it to me as a gift before my flight back to the States. She's now in college so it's almost 20 years since she gave it to me. I absolutely adore it. I call him "Pengui" (pronounced pen-gwee) and always bring him wherever I move. I had him with me when I was a boy, in my apartments when I went off to undergrad and graduate school, and have him now on my desk.
(Left) My Penguin Toy Gift
(Right) Super Mario Custom Lollipop
The second one was a Super Mario custom lollipop given to me during a combined Halloween/birthday party when I was in middle school. My younger brother received Link and our other friends had other Nintendo figures. It was so nice. When I actually found the lollipop, it took me by surprise. There were quite a few things that I forgot about, but once I saw the object, I can remember the details. Time really does move so fast! My cousin was so young when she gave me Pengui, and now she's in college and traveling to Japan.
As I conclude, I hope all of you have been doing well. I know that with the whirlwind of events such as finishing up taxes, graduations coming up, and tackling various activities, it can get quite hectic. The good thing is that the weather is getting nicer. I always love the spring and summer since there's more daylight and I love going out. I'll share a story before I close this entry. One evening, one of my friends and I spoke on the phone and she asked me, "Tudo bem?" (which means is everything well/going okay in Portuguese) I laughed and replied, "tudo bem, e você?" (everything is good, and how about you?) I then asked her a question in Portuguese and she told me, "Kevin! I only know that because my classmate is Brazilian and that's all I learned from him!" We both laughed. It was cute and really brightened my evening.
I hope you all enjoyed the pictures. I'm finishing up the mathematics handout which I hope to post tomorrow. The handout so far is 30 pages. I still have to write a notification entry on my Wordpress to let my followers know when it will be up. Have a great spring and Congratulations to all of you who are graduating next month!